Filed Under News, Personal | 2009-01-14, 20:05
Jan 20th is my birthday and I can't think of any better present this year than having Barack Obama as President.
I've never been much of a political person. I have my own views and opinions, but have never been interested in all the politics. A lot of that changed with this past election. Finally someone I felt could represent most of my interests and outlooks was running, and actually won. On November 4th, I watched Obama give his acceptance speech in a room of friends from all walks that I never thought would be as concerned as they were. Here was an entire generation energized by the potential the Obama represented to all of us.
Fifteen years ago I stood in the cold winter air of Washington D.C. on January 20th to watch Bill Clinton get sworn in. I had just turned 13 years old and did not really understand the significance of the moment. My highlight was having the group of people around us join in a chorus of "Happy Birthday". However looking back on it, I realize that it meant something to my dad. I can't speak for him, but I imagine he felt that there was someone taking office that represented him and his generation. It's my turn for that. Coincidentally my dad will be there too!
So a few days after the election I decided that I wanted to be in D.C. again for another inauguration. We booked flight tickets (after a friend offered us floor space on which to crash) and I drafted an email to Nancy Pelosi requesting the free, but incredibly rare tickets. We had very little hope of actually getting tickets but looked forward to joining millions of people on the mall to experience this historic event. To my surprise a few weeks after I had sent in my request, I received an email from Nancy Pelosi letting me know that she would like to offer me tickets to the event. I was ecstatic.
So on Monday, Heather and I will hop on a flight to D.C. to join an estimated 4 million people for an unprecedented celebration. We'll probably be spending the night on the floor in a friend's office, 1 block from the Capitol, getting up early to get through the security checks and into place to wait for the official ceremony at noon and for history to take place. I will be twittering non-stop, and doing my best to take photos as I want to document for myself and I know others are interested in a more personal take on the event. If you're going too, let me know!
Filed Under News, Websites | 2008-08-15, 15:42
When I turned 25 it suddenly dawned on me that if I wanted to be successful and actually do something with my life I was solely responsible for making that happen. The next 3 years of my life saw me sitting down and building up a network of websites. It started as something I enjoyed doing in my free time, and over time it started to eat up more and more of my free time. It opened new doors and also provided some supplemental income. It allowed me to move to San Francisco. It let me buy new gadgets and toys. I longed for the day that I would be able to actually make a living off of all this work. I wanted to answer to nobody but myself. I wanted the excitement of actually creating something. That day has finally come.
Today is my last day at [large software company]. I'm walking away from a great team of people, a nice paycheck, a good working environment, and the security of health benefits, 401(k), vacation time, etc. I'm walking into the unknown of working for myself 100%. Life is good, life is exciting, and it is sure to be an adventure.
Filed Under Geek, News, Pranks, SF Bay Area, Websites | 2008-07-02, 17:03
For those that don't know, Violet Blue is a well-known sex educator and Boing Boing is one of the most(?) popular blogs on the internet. If you haven't heard about Violet Blue's posts getting pulled from BoingBoing, there's more than enough press out there about it. Even the LA Times picked up the story. I don't want to get into a long post about my thoughts on the matter, but I did want to share something I thought worth sharing.
I setup VioletBlueVioletBlue.net to house all of the Boing Boing posts that had been "unpublished". These posts are all taken directly from archive.org where the old versions of the posts are kept. Boing Boing publishes their stuff under Creative Commons, so I am redistributing their work with attribution. I wanted this content to remain around and in a form that is easily locatable, i.e. not buried in archive.org's wayback machine. If you have a blog post that previously linked to the post on Boing Boing, then feel free to link to its equivalent on VB2. These posts aren't getting unpublished any time soon.
If I missed anything or made any mistakes on the site, please let me know. I make no claims to being perfect by any means.
Filed Under Art, Geek, News | 2008-03-13, 20:08

This 4th of July weekend will see the first annual "Escape from Berkeley" with a race from Berkeley, CA to Las Vegas, NV. This three day race will be unlike an ordinary race as all of the vehicles will be running on non-petroleum fuel! The announcement arrived via an email from Jim Mason, a well known East Bay artist who is responsible for large scale art projects and the Shipyard. All sorts of vehicles are permitted to enter the race as long as they are not powered by any petroleum based fuel or something that is "currently sold as a motor fuel". You are allowed to store 10kwh of power in any form to get you going, but past that you'll have to use your creativity. Some of Mason's suggestions (other than the typical solar and steam) include: biomass, gasifiers, fast starch anaerobic digesters, on board sugar stills, tesla free energy vortexes, cold fusion, humans, and hamsters. On top of this, you can't carry any fuel with you and you can't purchase it on your way. Contestants will have to scavenge their fuel/power for free on the side of the highway.
So what do you win? Besides the geek pride and bragging rights, there will be a "significant cash prize for the winnner". More information will be announced in the near future, but if you're already interested in entering, get in touch with Jim. As this race is being compared to the Grand Challenge and Cannonball Run, it should be interesting to see what vehicles make it to Vegas, and who actually makes it there first!
Filed Under News | 2008-03-12, 17:18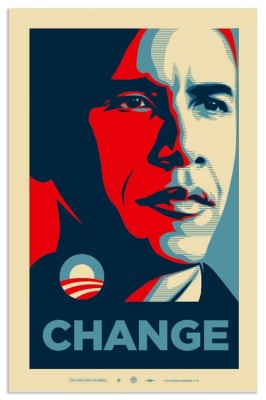 I got the twitter from Barack, bounced over to the store on his website and plunked down $70 to go towards his campaign. I have been meaning to contribute financially to Mr Obama, but had not gotten around to it. The announcement of limited edition Shepard Fairey posters spurred me to break out that credit card. It's a cool poster, and will be a piece of history in my eyes. If he wins, it will be one of those things that I'll hopefully look back on with fondness, recalling the end of the Bush regime and the start of something new. If he doesn't win, then I'll just hold onto it for 4 more years and put it back up in 2012.
I'm not one that gets all fired up about politics for the most part, but this year with the mess that Bush has gotten us into and the possibility for something new and different, I've made more effort than in the past. I've been really impressed by Obama and his campaign and staff. From his twitter account with snarky remarks, to stencils on the sidewalks of San Francisco. (Can you imagine if the President actually continued to Twitter, or keep a blog?) I feel like he is up for the challenge of the presidency and will represent my generation well. He may not have as much political experience as Hillary, but experience can also mean "stuck in a rut" and not willing to break a few molds. It's about time we got the old, power-hungry, religious guys out of office. I just hope that enough of the country feels the same way.
Filed Under Body Modification, News | 2008-03-12, 15:57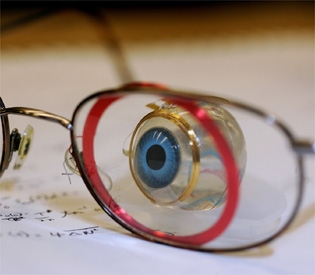 The number one question in my mind that deters me from laser eye surgery to correct my vision is "what if the doctor screws up and I'm blind?" My sight is an important part of my life, as it is for most people, and I can't imagine trying to function in life without it. I've joked in the past that I'll get lasik when they have replacements on hand in case something goes wrong. Well, now they will. It has taken them 20 years, but the Boston Retinal Implant Project has designed an implant that will "provide patients with a sense of their surroundings – to detect shapes and obstacles in their pathways". It's not a perfect replacement for your natural eyesight yet, but it will allow you to get around on your own without a guide dog or a white cane. Most of the hardware is kept outside of the eye, with only a small strip of plastic actually implanted. This plus the reports that LASIK can improve eyesight beyond 20/20 continue to make the procedure more attractive to me. If you want to check out more info on the retinal implant, there's a good article on The Boston Herald with more details on how it was designed.
Filed Under Movies and Music, News | 2008-03-05, 15:15
I truly believe that Trent Reznor "gets it" with his recent release of Ghosts in a variety of forms. For those that don't know, Ghosts is the latest album from Nine Inch Nails. Here's the announcement that came along with the release:
Hello from Nine Inch Nails.

We're very proud to present a new collection of instrumental music, Ghosts I-IV. Almost two hours of music recorded over an intense ten week period last fall, Ghosts I-IV sprawls Nine Inch Nails across a variety of new terrain.

Now that we're no longer constrained by a record label, we've decided to personally upload Ghosts I, the first of the four volumes, to various torrent sites, because we believe BitTorrent is a revolutionary digital distribution method, and we believe in finding ways to utilize new technologies instead of fighting them.

We encourage you to share the music of Ghosts I with your friends, post it on your website, play it on your podcast, use it for video projects, etc. It's licensed for all non-commercial use under Creative Commons.

We've also made a 40 page PDF book to accompany the album. If you'd like to download it for free, visit http://ghosts.nin.com/main/pdf

Ghosts I is the first part of the 36 track collection Ghosts I-IV. Undoubtedly you'll be able to find the complete collection on the same torrent network you found this file, but if you're interested in the release, we encourage you to check it out at ghosts.nin.com, where the complete Ghosts I-IV is available directly from us in a variety of DRM-free digital formats, including FLAC lossless, for only $5. You can also order it on CD, or as a deluxe package with multitrack audio files, high definition audio on Blu-ray disc, and a large hard-bound book.

We genuinely appreciate your support, and hope you enjoy the new music. Thanks for listening.
I think Radiohead paved some way with their release of Rainbows, but Trent Reznor has blown the doors off with this kind of release. For years I've been clamoring for releases of media in ways that I want to use it, with appropriate pricing and licensing. DRM-Free with a Creative Commons license for personal use in any way you see fit. Thank you Mr. Reznor. Here's hoping more artists follow in your footsteps.
For all you nay-sayers that think this isn't a viable business model, there are posts pointing out the revenue of the limited edition collectors set at $750k (2500 units at $300 apiece). In addition to that there is teh $75 "deluxe edition" (physical media), $10 CD, and $5 downloads (totally unlimited). Minus the costs of producing all this, some materials, and bandwidth, Trent still ends up with a pretty significant chunk of income. With all the major players in the music industry dropping DRM and more and more artists releasing their work for free, the music industry is finally getting the upheaval that it needed.
Filed Under News | 2008-01-15, 10:55
Dreamhost, one web hosting company I use for non-mission critical websites, really screwed up this time. In an attempt to collect on all the bills that were due by the end of 2007, an automated billing script was run. The only problem was this script was run as if it was 2008-12-31, NOT 2007-12-31. Of course this meant everyone who had not prepaid their account an extra year received an email regarding a bill not due until 2009. Not a big deal, right? Just delete the email and ignore the mistake. The problem is that Dreamhost's automated billing system automatically charged cards that were on file for the accounts. They assure everyone that they are going through and making things right by cancelling these charges but no word yet on whether or not they'll cover bank fees for those unlucky ones that had their account overdrawn.
UPDATE: Just got an email from Dreamhost:
Hi Ed!

Ack. Through a COMPLETE bumbling on our part, we've accidentally attempted
to charge you for the ENTIRE year of 2008 (and probably 2009!) ALREADY
(it was all due to a fat finger)!

We're really really realllly embarassed about this, but you have nothing
to worry about. Please ignore any confusing billing messages you may have
received recently; we've already removed all those bum future charges on
your account and already refunded the $313.85 charge on your
credit card.

You should get the money back on almost immediately, within a day or
two max, and there's no need to contact your credit card company or bank
for the refund.

Thank you very very much for your patience with this.. we PROMISE
this won't happen again. There's no need to reply to this message unless
of course you have any other questions at all!

Sincerely,
The Foolish DreamHost Billing Team!
Filed Under Gadgets & Hardware, News, Photography | 2007-11-20, 20:08

Eye-Fi Wireless SD Card
Originally uploaded by edrabbit.

Finally got a minute to setup my Eye-Fi card. I must say I'm very happy with the finished product so far. I was very very glad to have both the options to upload directly to Flickr as well as to upload to a folder on a local machine. I was stuck with just Flickr support in the past and didn't like how every single blurry photo got uploaded, not allowing me to pick and choose. Now with it uploading to my laptop via wireless, I can sort through them (organized by date even!) and pick which ones warrant the Flickr stream. All in all definitely worth $99 in my opinion.
This could definitely change the way photos are done. Imagine being at a protest or gathering. You snap some pictures of some sensitive stuff, the authorities confiscate your camera and destroy it. What they don't realize is that all the pictures were wirelessly synced to your laptop in the car that has a wireless AP running. I can also imagine this being convenient to photographers, who can upload photos while they're doing a shoot, so they can be reviewed instantaneously. I'm also trying to think of other projects where this could be fun. Mella and I have talked about putting together some portable cameras that this would be fun to work with.
So far there are only two things I wish the card could do. Have another 2 gb of space to match my 4gb (although I may be able to survive with space for 780+ photos/17minutes of video), and have a setting where I could tell it to connect to open networks that don't require a password automatically. Oh, and add a third to that… support for RAW images would be nice!
Filed Under News, SF Bay Area, Websites | 2007-10-20, 04:07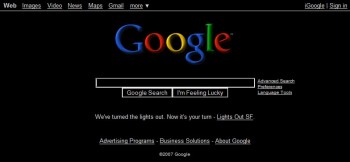 On Saturday, October 20, 2007, San Francisco will go black for one hour (8pm-9pm PST) as it participates in "Lights Out San Francisco". In addition, the citizens of SF are encouraged to install at least one compact fluorexcent light bulb to help reduce their energy consumption. In a show of their support, Google has changed the background of their page to black. This page is targeted at San Francisco users, since this is a local thing, so chances are you are seeing the normal Google page if you aren't using an internet connection that traces back to San Francisco. This isn't to say that you can't join in and turn out your lights from 8pm-9pm. For more info, check out Google's page and check out the official Lights Out San Francisco page.