Filed Under Fire Art, Video | 2009-05-27, 14:34
We've been boing-boinged a second time for
Dance Dance Immolation
. The first was
back in 2005
when DDI was in it's infancy. Fast forward 4 years and this time DDI is a bit more polished. BB has a video put together by Eddie Codel, hosted by
SFSlim
and
Charis Tobias
and starring the various members of
Interpretive Arson
. Yours truly is in it for only a moment, but it's one of those most wonderful moments where
Rubin
and I are hitting the buttons that makes the fire go! The video was all filmed during our setup and run for
How To Destroy The Universe Part 6
.
You can check out the official post on Boing Boing.
Filed Under Art, Burning Man, Fire Art, SF Bay Area | 2008-12-15, 12:01
For 19 years, the Sausalito Yacht Club has held the annual "Lighted Boat Parade". Everyone brings their boats out lit up with Christmas lights and cruises around the Bay. This year for the 20th time, they held the same parade, only there was a new entry, the White Holly, which took things a step further by being loaded up with fire art from around the Bay Area.
The White Holly is a "High Endurance, Expedition Vessel" primarily used primarily for research missions. It's a pretty hardy ship, but one has to wonder if anyone had in mind what it was used for on Saturday. Unfortunately I wasn't there, but I saw multiple comments on my Twitter stream of friends mentioning going on a boat, needing ear protection, etc. The best being "It's like we took Crude Awakening and stuck it on a ship. There's nowhere to run or hide. God help us." I wasn't fully aware of what was planned until the next day.
So what was on the White Holly? Well up front there was Epiphany, a 25′ steel sculpture by Dan Das Mann and Karen Cusolito that many remember from the Crude Awakening installment at Burning Man 2007 or maybe Maker Faire 2008. It had a "beating" heart of fire. There was El Diablo, a jet engine repurposed for shooting fire (and being noisy) by Jack Schroll. There were also flame effects built by the Flaming Lotus Girls and Bob Hofman installed on the boat amidst the Christmas lights. Don't forget the Tesla coil hanging off the side of the boat upside down sending arcs into the water. And to top it all off, the loudest air raid siren ever produced, the Victory Siren, announced to the entire area that the White Holly had arrived.
Videos and photos are still trickling online, but here's what I've found so far:
Wally also posted about it over on Planet Wally
There's also a good video over here.
Friends Leslie and NetDiva were lucky enough to be on board and have posted their Flickr sets from the White Holly.
The Victory Siren

Tesla Coil Test

Megavolt2's Video

Filed Under Body Modification, Fire | 2008-10-17, 14:02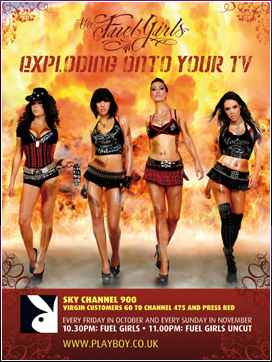 The Fuel Girls are a kick ass, ultra-sexy, fire breathing rock and roll, dance and stunt show! We perform all over the world, with a passion for FMX shows, rock festivals, motorshows, rallies and WILD parties! Our crazy no holds barred attitude and our awesome mad-max rides mean you get a bit more than you bargained for when you book our show!
Become a Fuel Girl:
Personality is equal to looks and fun, geeky, mischievous characters are always welcome to apply! The Fuel Girls show requires MASSES of sex appeal and an individual twist – whatever that may be. We love tattoos, dark hair, punk rock and glamour in equal measures, rock and roll, fire, saying YES, indie, real boobs, excitement, dare-devils, black cars, fast bikes, getting wet, mischief and naughtiness… yeh!
That's what their site bills The Fuel Girls as and what they're looking for in new members. I stumbled across this and I'm still not really sure what I think just yet. On one hand: hot girls, fire, body mod, and industrial art (we'll use that loosely) are right up my alley. On the other hand: it all feels kind of like high-fructose pop-culture performance. But even if it is a guilty pleasure, damned if it doesn't look hot!
It's of course hard to tell without seeing it in person, so hopefully they'll make their way to San Francisco sometime in the future. In the meantime, YouTube will have to suffice (NSFW for most of my readers):
Obviously they need more fire (girl with flamethrower = sexy!) and some suspensions to really crank it up a notch in my book. Then again I guess the typical car show guy crowd might not be so big on that.
Filed Under Fire Art, Video | 2007-09-18, 21:31
We've recently stumbled upon some good videos of explosions again. Last time it was Explosive Ordinance Disposals but this time it's an even bigger explosion, as well as some other large ones I had the opportunity to see in person.
Russian Vacuum Bomb
Containing 7.8 tons of high explosives, Russia's latest "vacuum bomb" is non-nuclear but results in an explosions equivalent to 44 tons of explosives. While the "Mother of all Bombs" is 8.0 tons, it is said this "Father of all Bombs" is even more powerful. The shockwave is readily visible, I only wish that the video had audio.

2BLEVE
2BLEVE was an art piece created by Nate Smith at Burning Man in 2006. In short about 250 gallons of fuel was ignited in two "boiling liquid expanding vapor explosions" (hence the name, 2BLEVE). A BLEVE occurs when a tank containing pressurized liquid is ruptured and the fuel quickly vaporizes, something you don't want to happen by accident.

More pictures and videos of 2BLEVE.
Crude Awakening
Crude Awakening was an art piece in the deep playa for Burning Man 2007. It consisted of a 100ft high oil derrick and 8 figures in poses of prayer "worshipping" the derrick. Politics, opinions, and green man theme aside, the explosion and burning of it at the end of the week was still awe-inspiring.
The extended version with the ridiculous amount of fireworks (for those without ADD):

The explosion from up close:

From a mile away:

Morning after
from thinkcooper:
Following the Crude Awakening burn, early Sunday morning, Nate figured we should dispose of the last couple of hundred gallons of AV fuel on his trailer. A group of a ~dozen of us headed out to the CA site around 5:30AM, and cleared out a 250′ safety perimeter. Nate filled two tanks with a ~200 gallons of aviation fuel each, pressurized them with propane, and then set them off. Bob Hoffman and I were laying on the playa right below the rings. What a Sunday morning treat for the all-nighters still hanging out at Crude Awakening site
Filed Under Education, Fire | 2007-07-03, 10:39
They didn't have this sort of thing when I was growing up, but I wish they did!
NPR reports
on a camp for kids where they're encouraged to blow things up.
Some video from one of the lessons on creating a wall of fire and exploding a chicken:
via MAKE
Filed Under Fire, Video | 2007-04-17, 14:37
It started with a 100 ton detonation found via techyum:

Then we found another view of it:

Then we started poking around and found these:


How about a 426 ton one?

These all appear to be from the EOD (Explosive Ordnance Disposal) guys over in Iraq, disposing of weapons and explosives they've seized.
Filed Under Fire, Video | 2007-02-28, 14:52
Forget all the new-fangled flat screen, LCD, HDMI, and super high-end displays out there. You know what you really want is a good old fashioned, back to the basics, fire display. NAO Designs has one ready for you if you're ready to shell out the dough. Unfortunately the resolution is only 12×7, but come on, it's on fire! The
Infernoptix
is 84 pixels of flame-licking goodness. There are several different modes that it can run in:
Text Mode – Think scrolling marquee without the lame LED lights.
Tracker Mode – "Draw" with the mouse or keyboard in real-time
Percussion Mode – Use the sounds of fire to create your own tunes.
Animation Mode – Low resolution animated patterns
Audio Mode – Winamp visualization in real fire!
I don't know why we're wasting time with all this writing, just watch:

More videos.