Filed Under Art, Body Modification, Funny | 2007-07-26, 18:50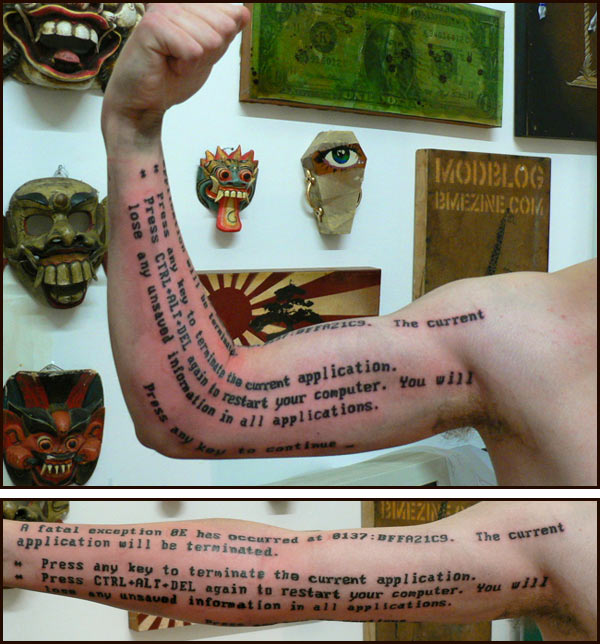 We recently posted some
geeky video game tattoos
, but in the world of geek tattoos, this one definitely ranks pretty high up there. A guy named Paul got this homage to the part of Windows 98 that we all curse to this day done by Sam Rulz of Two Hands Tattoo in New Zealand. Wow….
via ModBlog
Filed Under Art, Body Modification, Video Games | 2007-07-25, 15:11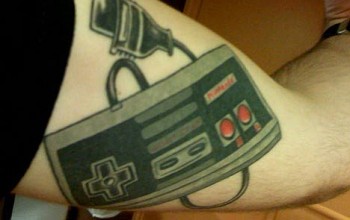 More "Gamer Ink" at www.thebbps.com.
via BehindTheInk. Picture source: www.thebbps.com.
Filed Under News, Second Life, SF Bay Area | 2007-07-24, 15:17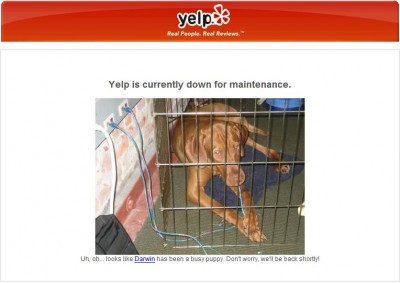 A series of power outages in San Francisco has taken a couple of pretty large sites out of commission. Those affected include:
craigslist
some SecondLife servers
NetFlix
LiveJournal
,
Vox
,
TypePad
(and the rest of
SixApart
)
Yelp
Technorati
AdBrite
Some
CurrentTV
servers
Some
ZDNet blogs
and the NSFW kink.com is also down…
All of these sites are hosted by 365 Main and I'm sure there are several other sites that are down because of this. Don't these people have reliable backup generators? sheesh.. where am I going to get my Internet fix from today? The best part is this press release went up shortly before the sites started going down.
SecondLife is also experiencing trouble due to the power outages and has disabled logins until it is back up fully.

And for us locals, it looks like the afternoon commute might be a bit crazy if this isn't resolved soon.
UPDATE from SFGate:
At least 30,000 Pacific Gas and Electric Co. customers in San Francisco and the northern Peninsula lost power this afternoon after an explosion under a manhole cover on Mission Street, the utility said.
…
Witnesses said they heard an explosion at about 1:50 p.m., then saw flames coming from the manhole.
Actor Torino Von Jones, 32, said he was filming a Fruit of the Loom commercial down the block at the time.
"We were standing over there waiting for the camera cue when we heard a big explosion," he said. "Flames came up taller than I am, and I'm 6-foot-2."
"Naturally, when you hear an explosion, you think the worst," said Von Jones, who nevertheless hurried back to work. "We're Fruit of the Loom — we've got to make this commercial."
Filed Under Art, Gadgets & Hardware, Lifehacks | 2007-07-20, 17:25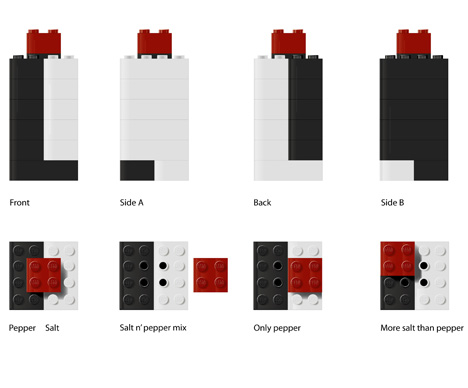 Finally, mom will let me bring my Legos to the dinner table! In a neat use of a childhood toy near and dear to my heart, designer Joel Hesselgren has put together a simple yet ingenous salt and pepper shaker made out of legos. Rather than create separate shakers, he combines them into one. By moving the top lego piece you can control the amount of each flavor enhancer.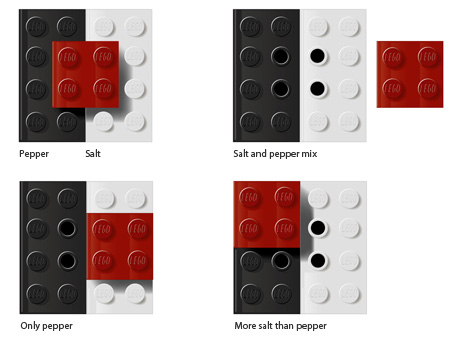 Source: Yanko design via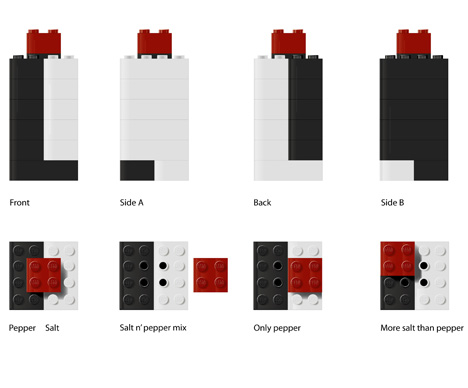 Filed Under Art, Gadgets & Hardware, Video | 2007-07-19, 20:23
We stumbled upone this video and were strangely mesmerized. Something about the rhythmic movement and the sounds that it made were entrancing. The engineering behind it is beautiful and the resulting product is great.
Here's what the artist has to say:
The "Octapult" is a kinetic sculpture designed and built on commission by Bradley N. Litwin of Philadelphia, PA. With 8 synchronized catapults, 160 plastic balls per minute are launched, caught, and recirculated. Made mostly of wood, the work is ~36 inches in diameter. On permanent display in the lobby of Lower Merion Elementary School, Merion Station, PA. Also a performing jazz musician, more of Litwin's work may be seen and heard at www.bradlitwin.com.
Filed Under Body Modification | 2007-07-19, 20:15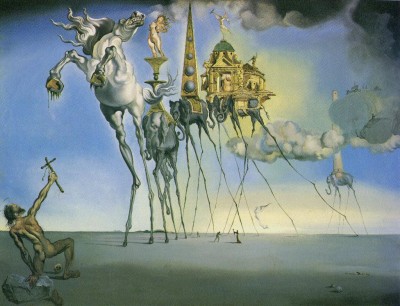 Like many of my body modification posts, this may not be for those that are squeamish and following any links in this post may lead you to NSFW material. This content is not for everyone. Donít say I didnít warn you.

ModBlog brings us yet another incredible cutting. This time it's an elephant in the style of Salvador Dali running down the side of a man with a high threshold for pain. Technically it was an ink rubbing, but the picture posted was prior to any ink. To save the more queasy of our readers I won't post the image, you'll have to hit up ModBlog for that.
Filed Under Gadgets & Hardware, Video | 2007-07-19, 19:17
Almost 20 years old, here's the first commercial for the Centel cell phone/car phone from 1989!

via GeekSugar
Filed Under Hacks and Mods, Video Games | 2007-07-08, 16:17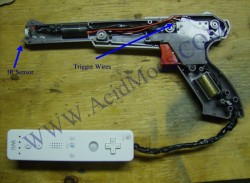 I told you
how the old school Nintendo Light Zapper works
, but now cyberpyrot over at AcidMods
shows you how
to modify one for use with the Nintendo Wii. Pretty simple, yet slick and a nice merging of old school with new school.
Filed Under Art, Video | 2007-07-08, 14:10

Kelburn Castle, one of the oldest castles in Scotland to have been inhabited by the same family, got nailed with spray-paint. This pre-1200s castle is now the canvas for Brazilian graffiti by some of the top artists in the world. The aim of the project is to create great art "whilst challenging the publicís understanding of both urban graffiti art and the British institution the building represents." The idea stemmed from members of the family who inhabit the castle wondering if they could convince the world-famous Banksy to create a piece on the wall of the castle. The idea soon evolved into recruiting graffiti artists from Brazil to fly out to Scotland, spend a month in the castle and paint the walls and turret along with the help of some local artists.
Before you start questioning whether or not this is disrespectful and whatnot, there's a few facts. This is supported by the Historic Scotland and of course the owners of the castle. Only two walls and a turret will be covered. This 'canvas' was chosen because the concrete currently on the walls is causing damage and will need to be removed in 2 years anyways. So the graffiti will only be displayed for 2 years, so book your flights now if you want to take a look at it. Or you can check out photos of the completed work over on their site. There is also a really neat time lapse video of it being created as well:

The Graffiti Project: Kelburn Castle via pranks.com
Filed Under Education, Lifehacks, Websites | 2007-07-07, 16:13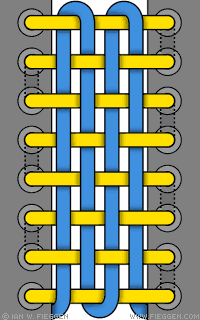 Bored of the tried and true method of lacing and tying your shoes? Ian's got the cure for that boredom at his shoelace site. He has tons of new and interesting ways to lace and tie your shoes.