Filed Under Events, SXSW on 2012-08-05, 12:04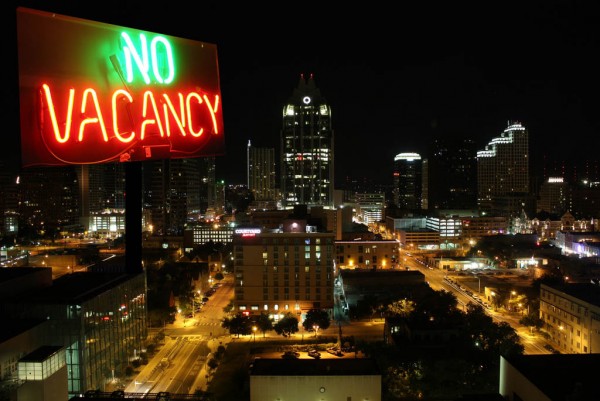 When SXSW 2012 registration opened a few days ago (July 30th), I was asked, "Does SXSW ever sell out?". My answer was, "No, but the hotels do".
The first year I attended SXSWi I decided to go at the last minute. The biggest challenge was finding a hotel room even remotely close to the Convention Center. I ended up at the La Quinta Inn Oltorf (1603 East Oltorf Street) which was about 2.5 miles from the convention center. While I had an incredible amount of fun, my week involved a lot of late night cab rides and I missed any sort of morning panels. After that I vowed never to stay that far away again. It's like camping in the outer streets of Black Rock City when all the action is on the Esplanade
I heard rumors a few days ago that hotels near the Austin Convention Center were already sold out for the Interactive portion of SXSW. Today I checked on SXSW's Hotel Availability page and sure enough everything close to the ACC is sold out for the Interactive portion of SXSW. If you're going for just music, most hotels are still available, but for SXSWi the closest hotel available through the SXSW Housing Desk is "La Quinta – South", 3.9 miles from the Convention Center. I imagine it won't be long before all those rooms are gone too.
The highly coveted hotels are anything within walking distance of the Austin Convention Center. The Hilton is probably the most sought after place to crash with it's proximity and tendency for late night lobby parties like the Revolving Door Party and the Backstroke Competition. Other popular hotels are the Courtyard Mariott/Residence Inn, the Driskell, and the W Hotel. Ever year I've found myself visiting friends or hitting the bar at these hotels.
If you're like me, your first thought is probably, "Why not just book a room for 2014 right now?" The problem is SXSW blocks off rooms in all the nearby hotels and then only provides them to SXSW badge holders. There are two ways to get a badge, you either buy one or you're given one for presenting a panel. In order to book a hotel room in one of the blocks that SXSW has held, you are required to have a badge. But this causes another problem, registration (for badges and hotels) opens well before panels are accepted. For SXSW 2012 I didn't know whether my panel was accepted until December. There are hotel rooms held for presenters, but there is the risk that your panel is not accepted, and then you're stuck in December and everything is sold out. Not a risk I'm willing to take.
SXSW Interactive is getting bigger and bigger every year. In 2010 (the first year Interactive was bigger than Music) there were 12-13,000 attendees. The next year, 2011, an estimated 20,000 people invaded Austin for the Interactive festival. Despite the rain this year, that number jumped up to 25,000 people. If this trend continues, we may see over 30,000 people this year and more people sharing beds out of necessity rather than a result of drunken hook-ups after the company party.
Image composite sources: anneh632 and Taber Andrew Bain
Tagged: Hotels, sxsw, SXSW Interactive, SXSW203
Comments