Filed Under Art, Movies and Music, Video | 2009-11-25, 13:46
I love stop motion and I love Legos. LegoMatrix put them together to recreate the classic roof-top bullet-time scene from The Matrix. The accuracy with which they've recreated this defining scene is amazing. They took each frame of the 44 seconds of this scene and recreated it with as much accuracy as Legos would allow, and then some. While the video itself is amazing, even more impressive is the "behind the scenes" of how they actually put it all together. Building camera rigs, figuring out all the tricks they'd have to do to make it accurate, let alone what Lego pieces to choose!
By the way, you can check their accuracy below:
Well done guys!!
via Great White Snark via Geekologie
Filed Under Funny, Movies and Music, SF Bay Area, Video | 2009-05-12, 16:42
Ever wondered what it would be like if a gigantic shark and a humongous octopus battled it out in the waters of the San Francisco Bay? Neither have I, but after seeing the trailer I couldn't resist pre-ordering Mega Shark vs. Giant Octopus, the straight-to-DVD-movie with Debbie Gibson. It's a flick from The Asylum, a company with a large amount of movies with strangely familiar titles.
Wondering how big "Mega" is? Here's a still from the movie of Mega Shark attacking the Golden Gate Bridge.  Needless to say our favorite Bay Area shark is put to shame.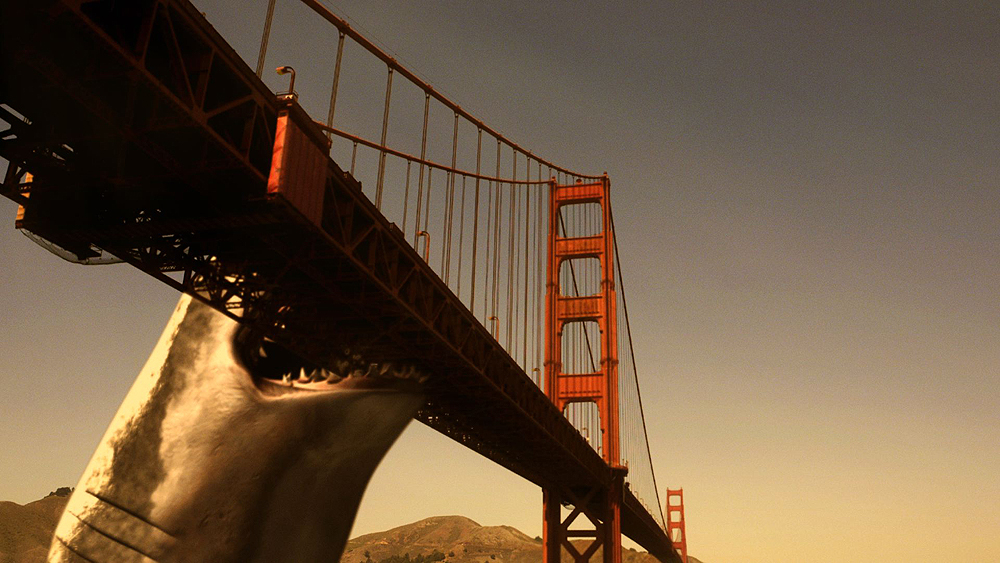 Filed Under Gadgets & Hardware, Movies and Music, Video | 2009-05-08, 12:53
As someone who has a problem with both electronic music and technology, the Tonium Pacemaker seems right up my alley. It's never going to replace a truly talented DJ and luckily the creators recognize that. However, thanks to the lower price of entry ($499 for the 60GB version), it can bring more people into the world of mixing music. I'll be honest, I'm torn. I don't know whether to whine about the purity of vinyl, or to go out and buy a Pacemaker. But I do know that if I was to get one it sure would take up a lot less space than the two Technics + a mixer + cabinet of records. My big question though is how well does it deal with jungle/drum and bass tracks?
If you don't have the patience for the full in-depth review above, check out Engadget's quick video highlighting some of the features. The official video is absolutely horrible however:
Filed Under Art, Movies and Music, Video | 2009-03-04, 13:27
Sorry for the reblog, but I had to share this. DocPop guest posted this over on Laughing Squid:
Thru-You is the new album by Israeli funk musician Kutiman. All of the album's sounds were painstakingly culled from YouTube videos and masterfully mixed into 7 fantastic tracks. It's like the "Entroducing…" of the internet! Hurry over to Thru-You.com to watch these amazing videos where you can also find the original links to all the sampled tracks by clicking the "credits" button.
Excuse me while I pick up my jaw from the floor. Absolutely amazing stuff! Go check it out
Filed Under Geek, Movies and Music | 2009-02-27, 13:38
This great drum n bass track from newcomer Mistabishi is appropriately titled. The video is a nice companion for your eyes as your ears are assaulted, in that good sort of way. Turn up the speakers and hit play. If you like what you hear, you can grab his album on iTunes or Hospital Records.
Thanks Jof!
Filed Under Movies and Music, Twitter | 2008-09-24, 12:01
Last night while watching Juno Reactor at The Independent here in San Francisco I hit my 3,000th tweet. The comment was in regards to the completely unexpected Juno Reactor show. I had never seen them live, and had only heard the music in soundtracks or on my ipod. They came out with an intense energy and an interesting stage show with only the performers. The music felt like The Matrix, the female vocalist looked like Pris (Daryl Hannah) from Bladerunner, and there was a definite tribal feel as horns (real ones, not brass) were played amidst unbelievable drumming.
If you want to follow me on Twitter and be there for my 4,000th tweet, my twitter name is edrabbit
Filed Under Movies and Music, News | 2008-03-05, 15:15
I truly believe that Trent Reznor "gets it" with his recent release of Ghosts in a variety of forms. For those that don't know, Ghosts is the latest album from Nine Inch Nails. Here's the announcement that came along with the release:
Hello from Nine Inch Nails.

We're very proud to present a new collection of instrumental music, Ghosts I-IV. Almost two hours of music recorded over an intense ten week period last fall, Ghosts I-IV sprawls Nine Inch Nails across a variety of new terrain.

Now that we're no longer constrained by a record label, we've decided to personally upload Ghosts I, the first of the four volumes, to various torrent sites, because we believe BitTorrent is a revolutionary digital distribution method, and we believe in finding ways to utilize new technologies instead of fighting them.

We encourage you to share the music of Ghosts I with your friends, post it on your website, play it on your podcast, use it for video projects, etc. It's licensed for all non-commercial use under Creative Commons.

We've also made a 40 page PDF book to accompany the album. If you'd like to download it for free, visit http://ghosts.nin.com/main/pdf

Ghosts I is the first part of the 36 track collection Ghosts I-IV. Undoubtedly you'll be able to find the complete collection on the same torrent network you found this file, but if you're interested in the release, we encourage you to check it out at ghosts.nin.com, where the complete Ghosts I-IV is available directly from us in a variety of DRM-free digital formats, including FLAC lossless, for only $5. You can also order it on CD, or as a deluxe package with multitrack audio files, high definition audio on Blu-ray disc, and a large hard-bound book.

We genuinely appreciate your support, and hope you enjoy the new music. Thanks for listening.
I think Radiohead paved some way with their release of Rainbows, but Trent Reznor has blown the doors off with this kind of release. For years I've been clamoring for releases of media in ways that I want to use it, with appropriate pricing and licensing. DRM-Free with a Creative Commons license for personal use in any way you see fit. Thank you Mr. Reznor. Here's hoping more artists follow in your footsteps.
For all you nay-sayers that think this isn't a viable business model, there are posts pointing out the revenue of the limited edition collectors set at $750k (2500 units at $300 apiece). In addition to that there is teh $75 "deluxe edition" (physical media), $10 CD, and $5 downloads (totally unlimited). Minus the costs of producing all this, some materials, and bandwidth, Trent still ends up with a pretty significant chunk of income. With all the major players in the music industry dropping DRM and more and more artists releasing their work for free, the music industry is finally getting the upheaval that it needed.
Filed Under Art, Movies and Music, Video, Video Games | 2008-03-03, 15:24
AudioSurf is a "music-adapting puzzle racer where you use your own music to create your own experience" says Steam. In short, you choose the music and the game creates a board and game-play experience that is related to that music. I'm always a bit wary of all these games that say your own music can affect game play and think that they'll never be able to compare to the synaesthetic experience of Rez, an all time classic. A friend had mentioned the game in passing, and I didn't think much of it other than to notice that it has the Orange Box soundtrack, including "Still Alive". But after seeing the video above I instantly loaded up my Steam and purchased this. Review to come soon.
Filed Under Movies and Music | 2007-11-08, 20:35
I received a free copy of this mix cd when I saw UNKLE live at the Mezzanine in San Francisco. I was happy to see them embracing a more open stance on music and copyright until I read the conflicting fine print:

The copyright in this sound recording is owned by Surrender All. Made in the UK. All rights of the producer and owner of this recorded work reserved. Unauthorised copying, public performance, broadcasting, hiring or rental is prohibited.
So based on this I can't legally rip it or burn it (unauthorised copying), and I can't share it (public performance, broadcasting). What gives?
Filed Under Movies and Music | 2007-05-11, 23:03
There has been a song that has haunted me for awhile. One of those songs that you hear, but can never remember what album it is from. I'm generally terrible about song names, and when there are no lyrics, it's almost a waste of time to try to identify a song. But tonight I heard one of those songs come on while I was listening to a live DJ Shadow set from the Benicassim Festival in 2002. The song has a great drum n bass-y feel to it, with a nice flowing background melody. It reminds me very much of the Crocodile Dundee theme song (as silly as that may sound), in fact so much that I think of it as a Crocodile Dundee remix. I'm sitting here listening in the intricate beats and just smiling. I finally tracked it down to DJ Shadow's album "Endtroducing…" and the track name is "Napalm Brain/Scatter Brain". The really good part doesn't start until about halfway through the 9 minute song, but then it gets oh-so-good. Right at the 6:50 mark the "Crocodile Dundee" part starts in. Such a great track. I highly recommend checking it out. I also found out the DJ Shadow will be in LA at the Hollywood Bowl on June 24th. Hmmm…. Road trip time?
Comments Off on DJ Shadow – Napalm Brain/Scatter Brain