Filed Under Gadgets & Hardware, Hacks and Mods on 2008-10-15, 15:26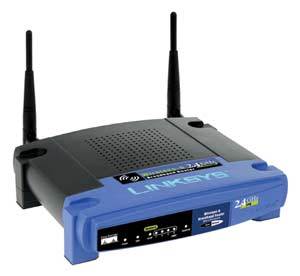 One of my best "sidewalk scores" since I moved to the Bay Area was a Linksys WRT54G router (v4). This brings up the count of WRT54G routers in the apartment to 3, plus the La Fonera wireless bridge to a friend across the street. How are they being used and what are they running?
Previously I had a WRT54GS (v6) running as our main router/wireless AP. It was running the default Linksys firmware and did a decent job. It's easy to configure, and it just works once things are all setup. I have had to reboot it a couple times (maybe 3-4?) in the past year, but that's not that big of a deal. The default firmware is simple, usually easy to understand, but lacking in "fun" features. It also seemed to not really pay much attention to my QoS rules as torrent traffic always chokes our network. It was acceptable, but I wasn't exceedingly happy or excited with the firmware. Plus it hurts your geek cred to run default firmware when it can be hacked, right?
So, something had to be done about this boring firmware. The sidewalk scored WRT54G just got the Tomato firmware (v1.21) installed on it and replaced the WRT54GS as our main router. I first had to hold down the reset button for 30 seconds to reset things to factory defaults to wipe out the previous owner's username/password. Then I was able to log into the web interface (default Linksys password is "admin") and it was beyond easy to upgrade the firmware from the default Linksys firmware to Tomato. You literally browse to the download Tomato firmware and click upgrade. A few minutes later I reloaded the web interface (entered the default password of "admin") and saw Tomato's minimalistic admin interface. I ran through and matched all the settings to our existing router and then waited for Heather to take a lunch break to swap them out without any problems. I'll probably re-flash the old router with DD-WRT or Tomato and drop it back in the office to use on the other end of the ethernet cable I ran back there to have a wired network.
Speaking of the office, there's also a third WRT54G (v.3) router back there. It's wired up in the rolling media center, which is comprised of an Ikea rolling shelf thing housing an audio reciever, Xbox, Playstation 3, and 32″ LCD HDTV. Because I keep most of my media on a machine in the living room, but want to play it on the TV, I wanted to be able to stream to either the Xbox or PS3. I used a WRT54G router with it enabled as a wireless bridge using DD-WRT. It utilizes its more sensitive antennas to pick up the weak wireless signal from the living room and then share it with other wireless devices as well as the hardwired Xbox, PS3, and laptop. I set it up once over a year ago, and have not had to touch a single setting on it nor had any problems. It was incredibly easy to setup and it has been rock solid.
So, I know everyone wants to know, what's the best firmware replacement? Well, ultimately it's up to you and how you'll use the router. But here are my thoughts:
Default firmware:
If you're lazy and just have a normal network setup (cabled modem + wireless router + laptop + wired PC, etc.), and don't care about tweaking things, then the default firmware is problem fine. If you ever run into a problem, you can call up Linksys tech support and they can help you out.
DD-WRT:
DD-WRT served me very well for several years. However it doesn't get a lot of development these days. One annoying thing is that it continuously reboots the router when you have to make changes, which can get annoying as you wait each time for it to come back up. It was also extra steps to set up traffic logging so I could quench my stats junkie. It's a great project, and works incredibly well. I have very few complaints and would probably have kept using this.
Tomato:
However, with my first impressions of Tomato, I've found a new firmware to love. Tomato's interface is incredibly nice and clean: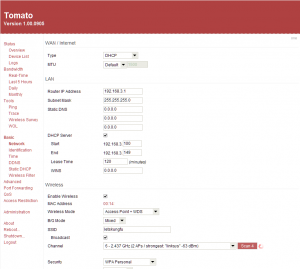 It's quick and easy to browse around and change settings. Most settings don't require restarting as it just restarts the necessary services. It's on par with DD-WRT, but it has one feature that really sold me on it, bandwidth graphs. Tomato has real-time bandwidth stats where you can watch it update (on a 2sec refresh) your current bandwidth usage based on the network interface (wired/wireless/etc). This alone made me want to install Tomato, and everything else I've run into has been a plus. One other nice surprise is that you can mount Samba (i.e. Windows Sharing) file shares in Tomato. So I currently have it backing up the bandwidth stats to a shared folder on another server every hour right now. I'm sure this can be used for all sorts of other fun things I have yet to think of too.
So in the end, unless something terrible rears it's ugly head, Tomato is now on top in my book due to its interface and stats capabilities.
UPDATE: I noticed shortly after switching to the Tomato based router that streaming .avi videos over a Windows file share was uncommonly jumpy. After some research I went into the Administration->Configuration section and selected "Erase all data in NVRAM memory". This is recommended if you are switching from a different firmware to Tomato, and will set everything back to defaults. After doing that and reconfiguring, video streaming seemed even better than before!
Tagged: dd-wrt, linksys, networking, tomato, wrt54g
Comments