Filed Under Geek, Personal, SXSW on 2010-03-09, 18:28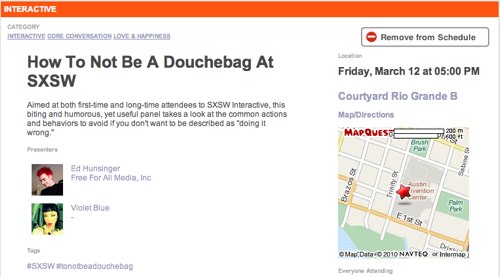 Ok, one last warning! Our "core conversation" on How To Not Be A Douchebag at SXSW is only a few days away. Violet Blue, John Adams, and I (along with insight from Ben Metcalfe) have put together what we think will be a a great panel.
We're scheduled for Friday, March 12th at 5pm in Courtyard Rio Grande B. Come early to grab a seat as 99 people have already said they're coming! Official page is over here if you want to add it to your schedule on my.sxsw.com.
Comments