Filed Under Body Modification, Fire on 2008-10-17, 14:02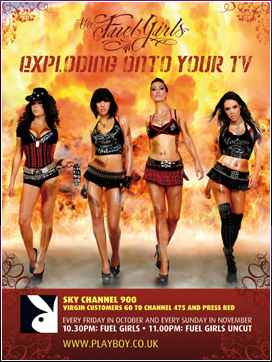 The Fuel Girls are a kick ass, ultra-sexy, fire breathing rock and roll, dance and stunt show! We perform all over the world, with a passion for FMX shows, rock festivals, motorshows, rallies and WILD parties! Our crazy no holds barred attitude and our awesome mad-max rides mean you get a bit more than you bargained for when you book our show!
Become a Fuel Girl:
Personality is equal to looks and fun, geeky, mischievous characters are always welcome to apply! The Fuel Girls show requires MASSES of sex appeal and an individual twist – whatever that may be. We love tattoos, dark hair, punk rock and glamour in equal measures, rock and roll, fire, saying YES, indie, real boobs, excitement, dare-devils, black cars, fast bikes, getting wet, mischief and naughtiness… yeh!
That's what their site bills The Fuel Girls as and what they're looking for in new members. I stumbled across this and I'm still not really sure what I think just yet. On one hand: hot girls, fire, body mod, and industrial art (we'll use that loosely) are right up my alley. On the other hand: it all feels kind of like high-fructose pop-culture performance. But even if it is a guilty pleasure, damned if it doesn't look hot!
It's of course hard to tell without seeing it in person, so hopefully they'll make their way to San Francisco sometime in the future. In the meantime, YouTube will have to suffice (NSFW for most of my readers):
Obviously they need more fire (girl with flamethrower = sexy!) and some suspensions to really crank it up a notch in my book. Then again I guess the typical car show guy crowd might not be so big on that.
Tagged: Fire, Fuel Girls, tattoos
Comments