Filed Under Apple on 2008-11-10, 17:27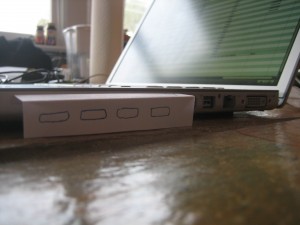 Dear Laptop Accessory Manufacturers,
Please make a USB hub that I can use on my Macbook Pro so I can have more than two things plugged in at once. I have been unable to find an acceptable USB hub that preserves the mobility of my Macbook Pro as well as protects the USB port from damage when USB appendages are sticking out.
We've searched everywhere, including all the USB Hubs
on Amazon, and the closest we were able to find is this one. As you can see it's ugly and doesn't sit quite flush. There's a great spot on the right hand side where a very thin USB hub for the Macbook Pro would fit perfectly. Making it flush against the body and only slightly wider than a USB plug would give it extra support and make it look nice. If you want to get fancy, make it swivel so that when it accidentally hits something it doesn't get wrenched out of the USB port.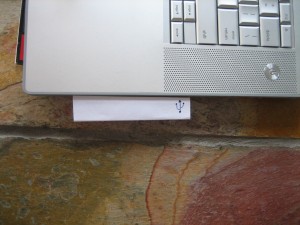 I have included a highly polished product mock-up of how this would integrate with my Macbook Pro. Oh, and one more thing; please make it match the sexy aluminum on my Macbook Pro so as to not attract embarrassing attention to the lack of USB ports on my pricey piece of equipment.
Thank you,
Ed
In all seriousness, if anyone has ever seen a USB Hub like this that would work on a Macbook Pro, please let me know!
Tagged: Apple, Macbook Pro, USB Hub
Comments