Filed Under Burning Man, Geek on 2008-09-11, 11:21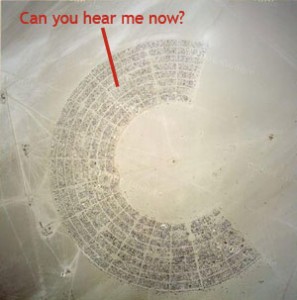 For those that aren't familiar, Black Rock City is the temporary city that is built every year in the Black Rock Desert for Burning Man. I've been a couple times, skipped this year, but will probably be back in 2009 with Interpretive Arson. This year marked a strange year of communication from BRC. Those of us not out in the desert could watch live video streams, read twitters, look at photos uploaded to the Burning Man map on Flickr, and in some cases even talk to people on the playa. Much of this has been around in the past, with the wireless internet being available but spotty for a couple years, but it's definitely starting to increase exponentially.
This year marked the first year that you could actually make and receive cell phone calls on the playa. This, like most everything on the playa, was of course not an official effort by the Burning Man Org. It was the work of the Open BTS Project. The Open BTS Project is "an effort to construct an open-source Unix application that uses the Universal Software Radio Peripheral (USRP) to present a GSM air interface ("Um") to standard GSM handset and uses the Asterisk software PBX to connect calls". In other words, open source software to run your own cell network. The purpose of this is admirable. A cheap and (eventually) easy way to setup cell networks in locations where they are needed. For more information, or to get involved, check out their page. What I love most about this project is that it is individuals putting together something that can be replicated without any corporations controlling the information. It's a step towards side-stepping the huge telecommunications monopoly in order to provide communication for people who otherwise wouldn't have it.
Of course this kind of project requires testing in order to know how it works. Black Rock City seemed to be the most appropriate location as it was in a remote area that didn't have cell service, there were a large number of people, and a large percentage of these people had cell phones. On the flip-side, Black Rock Desert is also a challenging environment due to dust/heat/remoteness, and if you can get something working out on the playa, getting it to work in other environments can sometimes seem like child's play.
Getting the service up and running was no easy task, and many problems were encountered. Generally the first thing I do when I arrive on the playa is to make sure my cell phone is off, I was surprised to hear that one of the problems that the OpenBTS guys ran into was people's cell phones attempting to register with their tower. Eventually they started accepting phones onto the network rather than blocking them and due to some bugs they later found out that people were able to make outgoing calls simply by prefixing a 1 in front of the number they were dialing. A number of people figured this out and call logs showed about 120 phone calls to 95 different phone numbers all over the US. The service was finally shutdown around 10pm on Saturday night for the Man burn, and then packed up the next day.
While this probably gets all of us geeks and tech-heads excited about its success, the OpenBTS guys did not forget to touch on an important aspect of implementing this technology in a place where it was previously not available. The social aspect of having cell service on the playa is one that will change things a great deal. They relate a story of someone receiving a call while hanging out at Hookahdome and the rudeness of the interruption. Based on this and further reflection, it looks like in the future they will be focusing more on SMS functionality, and will ask people to turn off their audible ringers. However, having provisions to be able to connect voice calls could be useful for some people as it seems like hurricanes appear to strike elsewhere in the US while Burning Man happens.
Personally, from a geek standpoint I think this is awesome. However from a "Burner" perspective, Black Rock City is changing. Whether for better or worse is up to the individual to decide.
Comments