Filed Under Art, Geek, Tools, Video | 2014-08-26, 22:01
Videogrep: Automatic Supercuts with Python
Videogrep is a python script that searches through dialog in videos and then cuts together a new video based on what it finds. Basically, it's a command-line "supercut" generator. The code is here on github.
More explanation and examples can be found on Sam Lavigne's blog post.
Filed Under Art | 2014-08-02, 20:27

With Burning Man quickly approaching again this year, the thought of art presented upon the canvas of the vast Black Rock Desert is in the minds of many people. However botanical artist Makoto Azuma thought art should take place not on the playa but 100,000ft above the Black Rock Desert. With the help of a team of people and some helium balloons, several plant creations were sent soaring into space.
From the EXOBIOTANICA page:
Plants on the earth rooted in the soil, under the command of gravity.
Roots, soil and gravity – by giving up the links to life, what kind of "beauty" shall be born?
Within the harsh "nature", at an attitude of 30,000 meters and minus 50 degrees Celsius,
the plants evolve into EXBIOTA (extraterrestrial life).
A pine tree confronting the ridge line of the Earth.
A bouquet of flowers marching towards the sun hit by the intense wind.
Freed from everything, the plants shall head to the space.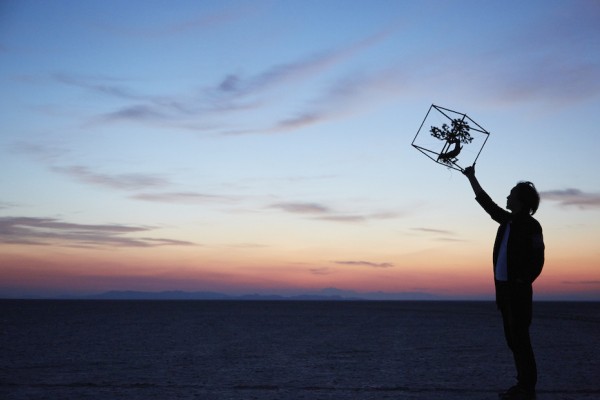 Filed Under Art, Geek, Self Tracking, Video | 2013-07-22, 23:50
If you've been tracking your own personal data for awhile like I have, you probably found yourself at one point asking, "Great, now what do I do with all of this?" If you're Brian House, the answer is: make a record.
Brian collected a years worth of gelocation data through an iOS app called OpenPaths and transformed it into a physical vinyl record. His project, titled "Quotidian Record", is a beautiful white vinyl with each day represented with a revolution of the record. You can read more about his project in his blog post and this Wired article.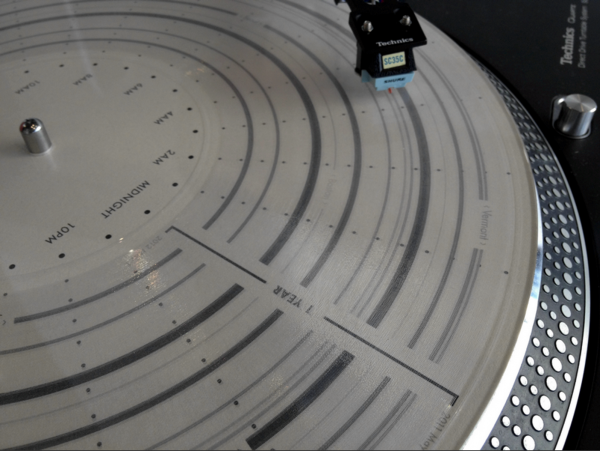 Filed Under Art, Lifehacks, Personal, Pranks | 2013-06-02, 21:23
We're moving in a few weeks to a new house in San Francisco. Of course this means we had to throw a housecooling party at our current place before we could have a housewarming at the new place. I know, I know Party Laws are strict but you have to follow the rules. Over dinner with friends @aerialdomo put forth the idea of filling a bathtub with pudding came up. Unfortunately that idea was rejected immediately. After Jell-O and H2Goo were both shot down as well, we decided to compromise on ice. Fun and functional!
The day of the party, I realized I had no idea how much ice we would actually need. I jumped online of course, consulting the internet brain and couldn't find a definitive answer.
How many pounds of ice cubes do you think it take to fill an average bathtub? And will @TaskRabbit deliver it all?

— Ed Hunsinger (@edrabbit) June 2, 2013
Our tub is 24″ wide, 60″ long, and 16″ deep, or about 13 cubic feet. Back of the envelope calculations by multiple people resulted in estimates ranging from 40lbs to 500lbs as we couldn't get a definitive answer on the volume of a bag of ice cubes. What were we to do? The answer was of course, just keep adding ice until it's full. The result: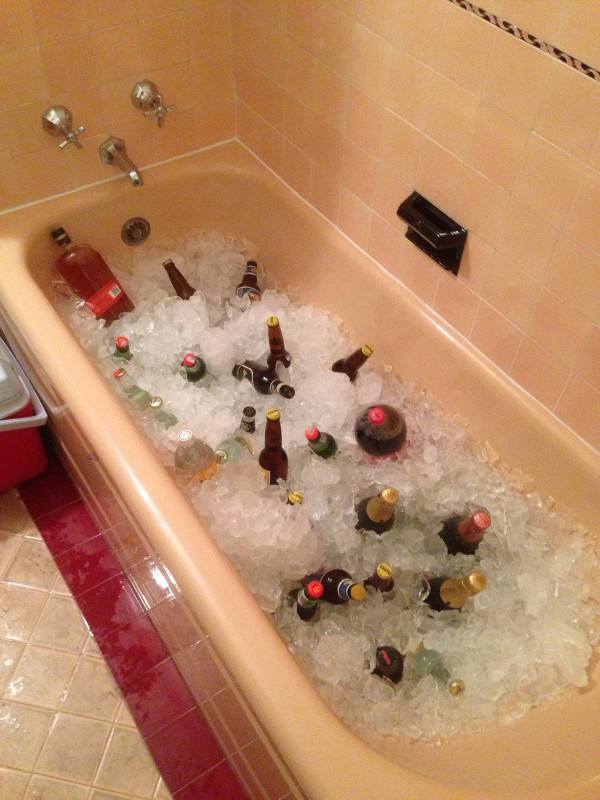 In the end, 185lbs of bagged ice cubes filled most of the tub. This was of course with some of the space taken up by bottles of beer, soda, and champagne. I estimate 200lbs would have given us a nice full tub. So there you go, to fill a basically standard tub, you probably need about 200lbs of ice. Or if you have a different sized tub, each pound of ice cubes will take up 0.065 cubic feet. I couldn't find this info on the internet before, but now you can. And no, we didn't steal anyone's kidneys.
Filed Under Art, Fire, Fire Art, Geek, Raspberry Pi | 2013-01-19, 18:46
I know the holidays are almost over (we still have my birthday!) but I had to share this video of Chris Marion's latest revision of Fire Hero 3. I've been chatting with Chris off an on over the last 2 years about fire art, and how Interpretive Arson/Ardent Heavy Industries has gone about building and running our stuff safely and legally at events.
He goes into great detail on how he built a lot of the system which includes six flame effects that react to guitar playing and two 100ft flame cannons for even more fire. All the plumbing and accumulators are controlled by an Arduino Mega and a RaspberryPi with a custom built server and communication protocol (written in python).
The Python host software is made up of a series of algorithms designed to perform intelligent chord-detection, as well as detect single notes and place them appropriately. The software memorizes all the chord progressions of a particular song as the guitarist plays in order to ensure consistent output for each chord.
The system is designed specifically for live music performances. I'm hoping it gets booked for a show nearby so I can check it out in person.
Filed Under Art, Personal, SF Bay Area, Video | 2012-02-20, 16:48
On Sunday I hopped in my car, attached my GoPro camera to the windshield and headed down Highway 1. For those not familiar with the area, Highway 1 winds down most of the coast of California and affords quite the view out across the Pacific Ocean as you wind around hills, fields, and cliffs. It's one of my favorite drives and I recommend it over Interstate 280 if you've got the extra time. I recently realized that I've been missing long drives by myself. I really enjoy how they give me time to think while the scenery constantly changes and good music plays on the stereo. Plus driving along a beautiful highway with all sorts of interesting turnouts makes for a good way to spend the afternoon.
My recent acquisition of a GoPro HD Hero2 camera (thanks Heather!) and various accessories has me using it for all sorts of things. In addition to shooting wonderful 1080p video underwater in the British Virgin Islands, one of the features of the GoPro camera is a time lapse mode where it can take a nice high resolution image every second. The small size and portability of the GoPro as well as the various mounts make it much easier to use versus my gigantic Pentax K20D dslr. But, not having a dedicated LCD screen makes aiming the GoPro a bit difficult, so the video is slightly tilted as the windshield mount isn't perfectly level and when I took it out on the cliff I was just using a Gorillapod in the grass so you might have to tilt your head a bit. I do have the LCD Bacpac to help with lining up shots, but for time lapses the Battery Bacpac takes priority.
For those wondering how I put everything together, it's actually quite simple. Quicktime Pro 7 has a great "Open image sequence" feature that I used to make all the individual clips, then I wrestled with iMovie 11 and its limitations to put together the clips with some simple transitions and audio. I used ccMixter to get some Creative Commons music that would work with the track, eventually settling on DLDN Instrumental by timberman. I'm still trying to figure out a good system to match up the music I'm actually listening to while the photos are being snapped and try to recreate the feeling in the final video, but haven't figured that out yet, not to mention the copyright issues of posting that music on video hosting services. In this case the soundtrack to a good portion of the trip was "Moods for Take Out", an album I had received from the musicians themselves the previous weekend. Throw in some High Contrast, Underworld, and Boards of Canada and you've got the playlist for the afternoon.
If anyone's interested, my route, tracked by my Garmin Vista HCx, is below. As you can see, I had a bit of a roundabout journey through the city thanks to a few blocks of the Great Highway being closed around Ocean Beach. The video of that fiasco as well as video of all the hanggliders and paragliders at Fort Funston was sadly never captured. (Note to self: check camera blinky red light more often) But as I headed south I managed to hit a handful of beaches and recognizable areas including my favorites: just past Devil's Slide at the beginning of the video, Pompanio Beach, and Pescadero Beach. As the sun set, I watched the light of a boat on the horizon blink as it rolled on the Pacific waves and the stars and planets dotted the sky. Not a bad way to spend my Sunday.
Filed Under Art, Events, Pranks, SF Bay Area | 2011-05-03, 10:58
This past weekend the Lost Horizon Night Market came to West Oakland. Tucked away in an alleyway next to a concrete mill, trucks opened up to the in-the-know public and created new and different experiences for everyone that attended. For those that aren't familiar, the idea of the Lost Horizon Night Market originated in New York, but a San Francisco version has since been opened. In short, a number of customized box trucks (usually around 20) all gather in a predetermined location on a chosen evening. Some trucks serve food, others put on a show, but they all provide experiences of some sort to the patrons of the night. For both of the San Francisco Lost Horizon Night Markets I have been a proprietor rather than a participant, teaming up with Nelz, Matt, and others to run the Mission Impossible truck.
When we first started throwing around ideas for a truck for the Market, it was agreed that we wanted something low-effort but high-impact: something that wouldn't take us hours and hours of work, but would still provide for a unique and fun experience for people. Inspired by the spy caper movies, we decided we would create a "laser field" that would protect "confectionery devices", aka cupcakes. People would have to manuever their way through the lasers in order to rescue a cupcake. If they tripped a laser, they would be eliminated by the robot sentries. The lasers were actually orange strings with bells on them and the robot sentries were people hidden in the darkness with fully automatic Nerf rifles. Throw in a smoke machine and a black light to make the "lasers" glow and we were basically done.
The first time we ran the truck we quickly gained a line and spent most of the night trying to get people through the line and the experience. Additionally we didn't really perfect our "pitch" since we had spent most of the time putting the truck together: painting wood, building guard booths, stringing bells, etc.
We decided that our goal this time was to not have a line. How to accomplish this? We would provide people with a task, some sort of small hurdle that they would have to complete before they even got a chance to get in the truck. Several ideas were tossed around about what sort of tasks we could ask people to do. I was very interested in making people interact with other people at the Market. I'm not sure who came up with the idea, but somehow a friend who was helping with another truck became our point person for these tasks. Since we had experience with Santa's Little Secret Service, we were easily able to get into Secret Service mode, donning suits, earpieces, dark sunglasses, and a serious attitude. When people asked what our truck was about, my pitch went something like this (with a serious and straight face mind you):
"We're guarding some highly unstable confectionery devices and we're looking for people with the experience and dedication to help defuse these devices. However due to the inherent danger in this mission we need to make sure you're up to the task. You will need to seek out the Man in the Mask. He will provide you with additional information."
Most people would instantly understand and go off hunting for the Man in the Mask, who we had given a handful of silver marbles and carte blanche to give people whatever missions he wanted. To be honest, I don't even know half of the stories Evan, our man in the mask, told people. All I know is that if someone showed up with a "high density spherical memory storage device" (aka a silver marble) and a good story about what they had to do to get here, we'd let them into the truck to try to get their cupcake.
Over the course of the night things got more and more complex as more people got pulled into the shadowy ruse. Evan would tell people to go find another person and ask them for a task. At first these other people didn't even realize they were part of the Mission Impossible truck, but were quick to send the person on some sort of mission. People would return to our truck anywhere from a few minutes to an hour or two later after running around the Night Market, following detours left and right.
One group of 6 people returned with a dream stolen from the Dream Library truck. I quickly called all the other agents for our truck and escorted the group to the semi next to us, which just happened to be "The Jail". We announced to the warden that they were charged with stealing dreams and needed to be locked up for their crimes. The group was put behind bars, and I ran off to the Dream Library to return the stolen dream. Upon my return to our truck I discovered that the group had broken out of jail and rushed our truck all at once! So many rules, shattered.
Another group, actually friends of a friend, were told at the very beginning of the night that they would want to experience our truck and they should get started on the mission early. At the end of the night they finally returned, with stories of being sent around to a number of different people, continuously wondering when it would all end and they would get into this mystery truck. I fessed up to them and told them that in all honesty none of the people involved with the Mission Impossible truck had a full picture of what was going on. In turn they told me stories of people stealing their marble, sending them to other truck to steal other objects, and getting pointed to one person after another for their next mission, and just a general state of confusion over the course of the night. As the market was coming to a close, we finally let them into the truck to run the laser course and get their cupcakes as they had surely earned them even if they had lost their marble.
Despite our efforts, at one point in the night we ended up with a line of about 4 groups deep. I had to make up something quick to stall. I explained to one group that there had been a serious laser malfunction and that they would need to find a red lighter, as red is the only wavelength of color that could successfully be used to repair the lasers. They rushed off into the darkness on the hunt. I turned to another couple, also ready to get in the truck. I told them that we needed a clean handkerchief. I don't remember the reasoning behind the need for this object, but after a bit of arguing they too ran off into the night in pursuit. They returned with one of them wearing the bandana over her face. She told me that on their way back, she had started giving people tasks to do in order to get into the truck too! So much chaos, so much confusion, so much fun.
For the next Night Market, we won't be doing the Mission Impossible truck again. It's been done, perfected, and it's time to move onto something new. However it was a great experience in just how much fun it can be to spark people's excitement and provide a sense of adventure. A huge thanks to Nelz, Matt, Rochelle, Evan, and everyone else that helped make things interesting.
Filed Under Art, SF Bay Area | 2010-02-22, 17:29
When I first moved to San Francisco, it wasn't long before I found myself in front of Defenestration, admiring the flying furniture. It was one of those things that made me go "wow, there's some really cool stuff in San Francisco, this city is great!" It wasn't until recently that I truly realized the size of the impact this piece had on the community of San Francisco when it was built 13 years ago. Simone Davalos has a great write up on Laughing Squid about the piece and many of the people involved. I highly recommend a read.
That said, Defenestration is in danger. Many of the pieces had to be removed due to safety issues and repairing and replacing these pieces to restore the awesomeness of Defenestration is going to cost money. There's a drive right now to raise the necessary $75,000 in order to save the piece. Donations are tax-deductible as they are sponsored by the Black Rock Arts Foundation. I urge you to donate whatever you can to help save this piece.
There is also going to be a fundraising/exhibit opening on Friday, March 5th from 6-10pm at the 1:AM Gallery. If you miss the party, you can still catch the exhibit on Defenestration through April 2nd, 2010. Please donate to help preserve some of the art that makes San Francisco what it is.
Filed Under Art, Photography, Websites | 2010-02-22, 15:56

The internet is awash in adult content, we all know that. And there's a lot of just plain crap out there that was made to make a buck. But occasionally the adult content mixes with art and something great comes out of it. Zivity is one of those examples.
For those not familiar, Zivity is a site where photographers and models get together and shoot some amazing photos. The site is decidedly Not Safe For Work (NSFW), so go check it out when you're at home. Just to be clear, you're not going to find your run of the mill porn there. Zivity encourages "photographs of women that promote their beuaty, show them respect, and meet [their] standards of tastefulness". One of my favorite things about Zivity is the way their revenue is handled. Rather than paying a flat fee to photographers and models and then making bank off of their shoots indefinitely, they pay the photographers and models based on votes. As a user of the site, you buy votes for $1 a piece and you can then vote on your favorite models and photographers. For me personally, it's a small way that I can help friends make a little bit of money making the art that they enjoy. The pretty pictures are an added bonus!
So enough of the sales pitch type talk. For the record I don't currently receive any commission on anything from Zivity (other than an account on the site), but I recommend it to people who are into this sort of thing. Cyan, the founder of Zivity, was kind enough to offer free 30 day trial accounts to readers. All you have to do is email geeked@zivity.com and ask nicely for an invite.
Filed Under Art, Video | 2010-02-11, 14:13
For his final piece in an art course, Jamie Bell (an art student from the UK) made a flipbook video titled "A Brief History of Pretty Much Everything". It's comprised of 2100 pages of pen doodles and took roughly 3 weeks to complete. It chronicles several key moments in the history of the universe, including an important one at 1:35.
via Giannii