Filed Under Art, Photography, Websites | 2010-02-22, 15:56

The internet is awash in adult content, we all know that. And there's a lot of just plain crap out there that was made to make a buck. But occasionally the adult content mixes with art and something great comes out of it. Zivity is one of those examples.
For those not familiar, Zivity is a site where photographers and models get together and shoot some amazing photos. The site is decidedly Not Safe For Work (NSFW), so go check it out when you're at home. Just to be clear, you're not going to find your run of the mill porn there. Zivity encourages "photographs of women that promote their beuaty, show them respect, and meet [their] standards of tastefulness". One of my favorite things about Zivity is the way their revenue is handled. Rather than paying a flat fee to photographers and models and then making bank off of their shoots indefinitely, they pay the photographers and models based on votes. As a user of the site, you buy votes for $1 a piece and you can then vote on your favorite models and photographers. For me personally, it's a small way that I can help friends make a little bit of money making the art that they enjoy. The pretty pictures are an added bonus!
So enough of the sales pitch type talk. For the record I don't currently receive any commission on anything from Zivity (other than an account on the site), but I recommend it to people who are into this sort of thing. Cyan, the founder of Zivity, was kind enough to offer free 30 day trial accounts to readers. All you have to do is email geeked@zivity.com and ask nicely for an invite.
Filed Under Events, Funny, Websites | 2009-05-14, 14:01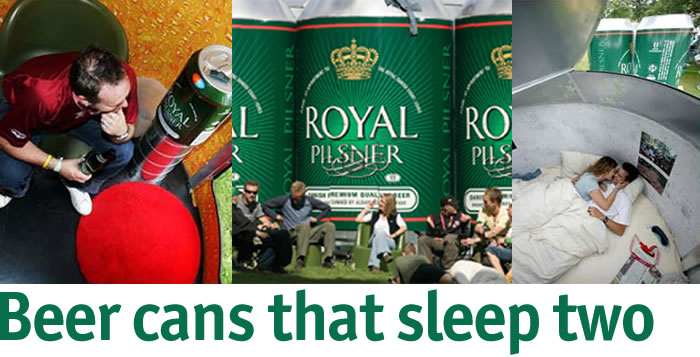 With large multi-day festivals one of the problems is where everyone goes to sleep at the end of the night!  Sometimes the festivals are located near hotels, but a lot of the time you'll find a sea of tents housing everyone.  But the organizers of Smukfest, a large music festival in Denmark, hit upon a novel idea: after spending all day drinking beer, why not sleep in a can?
The giant cans (11.5 feet high and 7.2 feet in diameter) are dubbed "Can Sleeps" and have a lockable door, a refrigerator and a roof that opens for light and air.  Inside you'll find all the comforts of home, a refrigerator (can shaped of course), tables, chairs, mirrors, shelves, etc.  The bed itself is lofted and comfortable large enough to sleep two adults.  All of the furniture is of course from a nearby neighbor, the Swedish Ikea.  Currently Royal Unibrew has a contract on them, but in the future I'm sure more brands will start jumping on the wagon.  It's a wonderfully unique approach and I can't wait to see them when we take Dance Dance Immolation to Denmark for this year's Smukfest.  And yes, they do come in six packs.
Thanks to Springwise for some translation.

Filed Under Art, Websites | 2009-05-14, 11:43
Want to make your own ambient Kutiman mixes? Thanks to the work of Darren Solomon of Science For Girls and several YouTube contributors you can (as long as you like Bb). The project is called "In Bb 2.0" and can be found at www.inbflat.net.
Darren put out a call for people to post YouTube videos of them playing instruments (or singing) in Bb major. He gave some guidelines on what works best, but left it open for people to be creative. The result is incredibly fun. You can play all of the videos at once, or just a few. Try playing a couple, and then bring in a few more, adjust the volume, start/stop, etc. The resulting sound has an incredibly pleasant ambient quality. Rather than a mash up where things were forced together, it flows incredibly well regardless of which video you play and when you start playing it. I'm also very fond of the spoken word video.
If you want to contribute to the video, Darren outlines the guidelines on the site. He's not putting every video up because he wants to maintain the feel of the project. I agree with his choice as I'm not sure Rap Chop would really work.
via Jaku
Filed Under News, Websites | 2008-08-15, 15:42
When I turned 25 it suddenly dawned on me that if I wanted to be successful and actually do something with my life I was solely responsible for making that happen. The next 3 years of my life saw me sitting down and building up a network of websites. It started as something I enjoyed doing in my free time, and over time it started to eat up more and more of my free time. It opened new doors and also provided some supplemental income. It allowed me to move to San Francisco. It let me buy new gadgets and toys. I longed for the day that I would be able to actually make a living off of all this work. I wanted to answer to nobody but myself. I wanted the excitement of actually creating something. That day has finally come.
Today is my last day at [large software company]. I'm walking away from a great team of people, a nice paycheck, a good working environment, and the security of health benefits, 401(k), vacation time, etc. I'm walking into the unknown of working for myself 100%. Life is good, life is exciting, and it is sure to be an adventure.
Filed Under Geek, News, Pranks, SF Bay Area, Websites | 2008-07-02, 17:03
For those that don't know, Violet Blue is a well-known sex educator and Boing Boing is one of the most(?) popular blogs on the internet. If you haven't heard about Violet Blue's posts getting pulled from BoingBoing, there's more than enough press out there about it. Even the LA Times picked up the story. I don't want to get into a long post about my thoughts on the matter, but I did want to share something I thought worth sharing.
I setup VioletBlueVioletBlue.net to house all of the Boing Boing posts that had been "unpublished". These posts are all taken directly from archive.org where the old versions of the posts are kept. Boing Boing publishes their stuff under Creative Commons, so I am redistributing their work with attribution. I wanted this content to remain around and in a form that is easily locatable, i.e. not buried in archive.org's wayback machine. If you have a blog post that previously linked to the post on Boing Boing, then feel free to link to its equivalent on VB2. These posts aren't getting unpublished any time soon.
If I missed anything or made any mistakes on the site, please let me know. I make no claims to being perfect by any means.
Filed Under Art, Geek, Websites | 2008-04-08, 12:45
Here's something that's kind of neat, representing websites as a graph of points. There's a nifty script that will make one for you by just providing it with a URL. Here is geeked.info (click to enlarge):
You can also download the source code and run it on your local machine to create a larger, higher resolution image that's suitable for posters, t-shirts, coffee mugs, etc.
If you want to check out more of these, there's a flickr pool of course. Some of them are quite aesthetically pleasing. If you're wondering what each node stands for, here's the legend from the site:
What do the colors mean?
blue: for links (the A tag)
red: for tables (TABLE, TR and TD tags)
green: for the DIV tag
violet: for images (the IMG tag)
yellow: for forms (FORM, INPUT, TEXTAREA, SELECT and OPTION tags)
orange: for linebreaks and blockquotes (BR, P, and BLOCKQUOTE tags)
black: the HTML tag, the root node
gray: all other tags
Thanks for pointing this site out exiva
Filed Under Websites | 2008-01-07, 12:54
For awhile now I've debated starting yet another blogging project. One where I blog about current events, but set them up so that they are posted 5,10,15, or more years in the future, but on the same date. Basically taking the idea of time-shifting and applying it to a blog. Well it looks like someone's doing something similar. I came across WW1: Experiences of an English Soldier, a blog being written through the letters of a soldier in World War I. The posts are being published 90 years after the dates the letters were originally written by his grandson. The blog also contains additional posts with more information, pictures, and scans of things the grandson has discovered in his research of his grandfather's life which, while they may destroy the purity of the concept, provide more context and back story. Definitely worth checking out, especially for those that are history geeks.
Filed Under Funny, Websites | 2007-12-02, 17:10
It started with a twitter. And an idea started forming. The domain was available and instantly registered. Heather and I worked on the code, and I spent an afternoon downloading and cropping images from BoingBoing to illustrate each square. And now we bring to you… BoingBoing Bingo!


It's simple really, just print out the board, post it on your cubicle, have your friends do the same, and the first person to 5 in a row horizontally, vertically, or diagonally wins.
Filed Under News, SF Bay Area, Websites | 2007-10-20, 04:07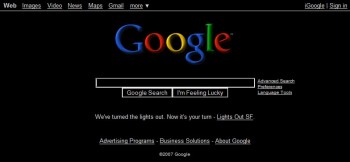 On Saturday, October 20, 2007, San Francisco will go black for one hour (8pm-9pm PST) as it participates in "Lights Out San Francisco". In addition, the citizens of SF are encouraged to install at least one compact fluorexcent light bulb to help reduce their energy consumption. In a show of their support, Google has changed the background of their page to black. This page is targeted at San Francisco users, since this is a local thing, so chances are you are seeing the normal Google page if you aren't using an internet connection that traces back to San Francisco. This isn't to say that you can't join in and turn out your lights from 8pm-9pm. For more info, check out Google's page and check out the official Lights Out San Francisco page.
Filed Under Education, Lifehacks, Websites | 2007-07-07, 16:13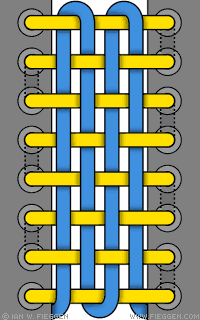 Bored of the tried and true method of lacing and tying your shoes? Ian's got the cure for that boredom at his shoelace site. He has tons of new and interesting ways to lace and tie your shoes.