Filed Under Geek, Self Tracking | 2013-09-27, 10:30

I spent the past weekend in the woods along the coast of California, away from the internet but still geeking out with more devices than I should have on the trail.
The plan was to hike from the Education Center of Point Reyes down along the Coast Trail, and spend the night at Glen Camp. Then we'd turn around and head back up, clocking in about 9 miles each way. I packed my bag, laced up my boots and put together an arsenal of tracking devices and off we went.
I brought with me my normal daily carry quantifying gadgets which included the Basis watch, a Nike Fuelband, and a Fitbit Zip. I decided to put my phone in airplane mode for the hike so I could conserve battery for taking photos. That meant I didn't have any tracking with foursquare, Moves, openPaths, or any other apps. I also brought along my Garmin Forerunner 610 with the Wahoo ANT+ heart rate strap which turned out to be quite sweaty, but worth it for the data. And of course my Garmin Vista HCx GPSr which always goes with me on trips. I also brought a Newtrent 7000mAh USB battery pack for recharging devices as needed since just about everything is chargeable over USB. I ended up only needing to charge the Forerunner overnight.
We parked our cars at the Educational Center in Point Reyes and started down, or rather up, the Laguna trail at about 2013-09-21 13:08:27. Laguna connected up with the Fire Lane trail which took us to Coast Camp and our first glimpse of the beach only 40 minutes into our hike. After stopping for lunch under a giant eucalyptus tree we got back on the Coast Trail (14:50), stopping several miles later at Kelham Beach for awhile (16:09 – 17:21).
While exploring the beaches I turned off my Garmin Forerunner watch because I wasn't sure how long the battery would actually last: a very common problem with all these tracking devices. So I didn't get my heart rate as much on the first day, but still got a bunch of GPX tracks. We finally made it into Glen Camp around 18:57, and set up camp as the sun was setting, but not before meeting a banana slug at 18:00 who was hanging out with some mushrooms at 37°59'36" N 122°48'21" W.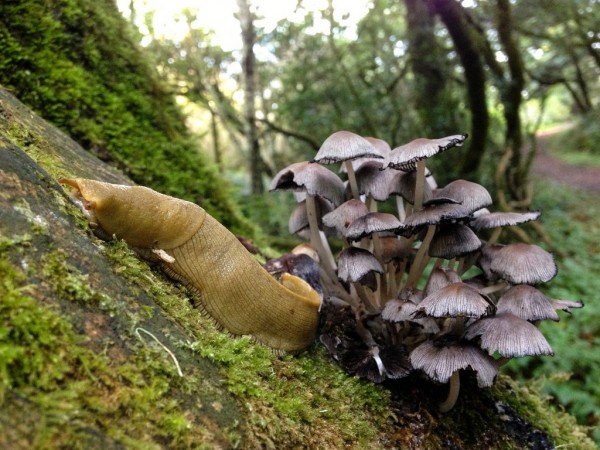 We spent the evening cooking a delicious dinner, and Tim made Bananas Foster for desert to celebrate the motivation for this trip, Mella's birthday! Yes, Tim hiked in a full pound of brown sugar, half a pound of butter, and a small bottle of Hennessey to make that happen. That night we also got to hear first hand "what the fox says" and were comforted in knowing that it was foxes and not actually someone being murdered.
The next morning we awoke, packed things up, and got back on the trail around 12:08:06. We stopped off at Arch Rock for lunch around 13:15, got back on the trail at 14:19, took a side detour to Sculptured Beach at 15:42 and then got back on the trail at 16:52. For some reason, my Garmin Vista HCx stopped tracking around 18:15, but my Garmin Forerunner tracked me all the way to the parking lot, putting my feet on concrete ten minutes later at 18:25.
Here's some more screenshots from my Nike Fuelband, Fitbit and Basis showing some of my stats for the weekend:

Hit the Garmin Connect activity pages if you want to see some nice stats of the trip, including playing back our journey on a map:
Pt Reyes Backpacking Trip Day 1
Pt Reyes Backpacking Trip Day 2
View the entire trip in EveryTrail here.
Or grab the raw GPX files for fun:
Garmin Vista GPX file from 2013-09-21
Garmin Forerunner GPX file from 2013-09-21
Garmin Vista GPX file from 2013-09-22
Garmin Forerunner GPX file from 2013-09-22
In the end, according to Fitbit, I clocked in over 54,000 steps for the weekend, and Fitbit says almost 26 miles but I think my stride might be a bit off as the GPS devices put it closer to 20 miles. I was able to add 11,694 Fuel points to my account.
I learned that I do indeed sweat a lot while hiking. The interesting thing was that I continued to sweat Sunday evening even though we were just riding in a car. Not sure if that's accurate or if the Basis was just confused.
I also learned that I start hurting and feeling tired while hiking if my heart rate gets up over 110. Being able to glance down at my watch and monitor my heart rate was great for helping me slow down and take it easy, making sure I'd make it back to civilization. After all, it wasn't a sprint with a 30 pound pack, but closer to a marathon with one.