Filed Under SF Bay Area | 2007-10-31, 11:34
Last night was an interesting evening. After meeting up with Rubin, Jake, and Audrey we headed to get sushi, only to find that BART was closed due to a suicide. Then during sushi at Miyabi, we thought we heard someone drop something in the kitchen. The sound was questioned, and we stopped eating to notice that the ground was kind of swaying. I looked up and saw the lights swinging from side to side. The other diners paused for a minute and you could see everyone waiting to see if things were going to subside or get worse. This was the first quake that I've been able to ask "Is this an earthquake?" instead of "Was that an earthquake?". Being in the moment and realizing what was going on felt slightly more comforting. I even had a chance to flip open my Sidekick and send a Twitter message during the actual earthquake. Unfortunately for my "geek cred" Dan beat my to it by 4 seconds (I blame the Sidekick's slow SMS sending).
Of course afterwards, we were all looking up info on the magnitude, watching the after shocks register, checking on friends, and deleting Twitters and IMs from just about everyone in the Bay Area. But everything is fine, very little to no damage around and as we waited for BART I noticed that the signs in the station said that there was an "earth tremor" and that trains were slightly delayed as tracks were being checked.
My favorite photo of the damage (as pointed out by s4xton) was this one:

Immediately after the 5.6 rumble, there were a number of after-shocks. These have continued through the night and today ranging in magnitude from 0.7 to 2.8. There are also forecasts of a 30% chance of an aftershock of 5 or greater. Hang on everyone!
image source: USGS by way of SFist
Filed Under Art, Body Modification, Gadgets & Hardware, Video | 2007-10-23, 22:26
Every day it seems like we're living in a Neal Stephenson book more and more. While the thought of tattoos that change via technology is not necessarily new, this is the first time that I've really seen someone illustrating the concept in a video. And on top of the sexy video, the people behind this are none other than Philips.

They describe this project as such:
Tattoos and physical mutilation are amongst the oldest forms of personal expression and identity. Subcultures have used tattoos as a form of self representation; a visual language communicating personality and status. Philips Design examined the growing trend of extreme body adornment like tattoos, piercing, implants and scarring.

The Electronics Tattoo film expresses the visual power of sensitive technology applied to the human body. The film subtly leads the viewer through the simultaneous emotional and aesthetic transformations between two lovers.
While the video really touches on the possible sensuality of a tattoo that changes with arousal and emotion, there are also practical applications for something as incredible as electronic tattoo ink. Imagine a simple text display created in electronic ink. Nothing more complex in display than a character LCD. Add bluetooth (or some other form of wireless) support to that with a small implant. Now you can display any text you'd like. Use your cell phone to pull the latest weather, sports, stocks, RSS feeds, or subjects from your emails as they download. Your latest twitter scrolling across the nape of your neck, or perhaps the song currently playing on your mp3 player. Or more importantly, serious medical information that provides EMTs with life-saving info right on your chest. The possibilities are endless, and not really that far off.
In fact, way back in the dark ages (1995) there were some people that had a similar idea. There is a patent filed by Andrew J Singer and Sean White from Interval Research Corporation in Palo Alto, CA. This patent is for an implantable and programmable LCD that might actually be possible with today's advances in technology. Unfortunately Interval Research closed their doors in June 2006. *sigh* Maybe we'll have better luck with Philips in 15 years.
via BehindTheInk
Filed Under News, SF Bay Area, Websites | 2007-10-20, 04:07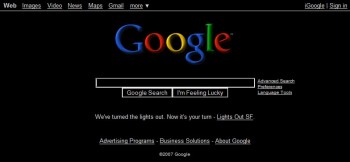 On Saturday, October 20, 2007, San Francisco will go black for one hour (8pm-9pm PST) as it participates in "Lights Out San Francisco". In addition, the citizens of SF are encouraged to install at least one compact fluorexcent light bulb to help reduce their energy consumption. In a show of their support, Google has changed the background of their page to black. This page is targeted at San Francisco users, since this is a local thing, so chances are you are seeing the normal Google page if you aren't using an internet connection that traces back to San Francisco. This isn't to say that you can't join in and turn out your lights from 8pm-9pm. For more info, check out Google's page and check out the official Lights Out San Francisco page.
Filed Under Body Modification, Video | 2007-10-18, 19:14
Today we bring you two videos of how not to get pierced, thanks to ModBlog (NSFW). While we've got nothing against piercing outside of professional studios as long as the person knows what they're doing, it's pretty obvious that the people in these videos don't. Well at least they had an idea to
Filed Under Body Modification | 2007-10-03, 22:58
Were you one of those kids in typign class that never could remember which key was where? Maybe you should have had the smarts to do what Nathan did.

via modblog of course
Filed Under SF Bay Area | 2007-10-03, 11:05
If you're running for public office, don't call/email/send me unsolicited campaign drivel. It just lets me know who NOT to vote for. On top of that, at least put my email address in the To field, so I know which one to unsubscribe without having to pull up the email headers. Email received (with my reply) below:
On 10/3/07, Harold wrote:
> It is time for the voters to unplug the political machine that controls this
> city and place the responsibility for government squarely on the shoulders
> of someone who will make every decision based on what is best for the
> citizenry.
>
> My name is Harold Hoogasian. I am a third generation San Franciscan. My
> business, Hoogasian Flowers, was established by my grandfather. The
> philosophy taught to me by my family is that whenever possible, one should
> use local, San Francisco based businesses to provide goods and services, in
> order to keep the dollars in our own San Francisco economy.
>
> I call on the voters of this Great City of San Francisco to rise up, UNPLUG
> THE MACHINE of party politics and CONSENT to a BETTER WAY OF GOVERNMENT. If
> you will elect me to the Office of Mayor of San Francisco, I pledge to bring
> excellence to every area of endeavor and to seek the highest level of
> success in resolving homelessness, improving transportation and addressing
> the other issues that confront us.
>
> To meet this challenge I ask your help:
> 1) Please contribute money to our campaign
> 2) Call and volunteer to work on the campaign
> 3) Call or e-mail us and volunteer to place a campaign sign your window of
> your car or home
>
> Together we can build a future of which we all will be proud.
>
> Harold M. Hoogasian,
> Candidate for Mayor
> 415-229-2710
> If you would rather not receive information about this contested mayoral
> election,
>
> Reply with "unsubscribe" in the subject line: campaign@unplugthemachine.org
Please add this to your basic issues for your platform and I might reconsider:
6. A stand against unsolicited email – Spam is out of control. We cannot tolerate the level of email we receive in our inbox every day. As Mayor, I will do nothing about this annoying intrusion as I have an established track record of sending unsolicited email to undisclosed-recipients. This issue should have my full attention as people are unable to unsubscribe from these emails when they don't know which email address they were sent to.
Filed Under Funny | 2007-10-01, 13:22
xkcd has a great comic up that points out that I'm not the only one to notice the correlation between drinking and programming: