Filed Under Geek | 2009-11-24, 13:46
I bought a gigabit switch awhile back when I needed to replace an existing switch with something with more ports. I bought the DLink DGS-2208 8-port 10/100/1000mbps switch as it had great reviews for its price point.
Here's my current network topology:
Internet comes in from Comcast to a Linksys WRT54g v4 (10/100) wireless router running the Tomato Firmware v1.25.
Connected to that Linksys router is an ethernet cable that runs the length of my apartment to a DLink DGS-2208 gigabit switch.
Connected to the DLink:
– Macbook Pro (10/100/1000)
– Xbox 360 (10/100)
– Media Server box running Windows XP (10/100/1000)
Previously the Media Server box was connected to the Linksys router and was doing just fine on all file transfers. When I moved the Media Server to the gigabit switch I started having problems.
The first problem was streaming video to the Xbox 360 through Windows Media Player 11 Media Sharing. Previously I was able to stream 1080p video across the network without any problems whatsoever. After moving to the gigabit switch I was having trouble streaming anything. It would lag, freeze up, and even sometimes the Xbox would tell me that it had lost the network connection to that machine. I found this article which addresses an issue with Windows Media Extender and Windows Vista and resulting poor video quality. Not exactly my issue, but the suggestion of clocking the Media Server NIC down to 100mbps instantly cleared up the video streaming problem. (I tried enabling flow control, but that didn't work.)
So great, streaming to the Xbox problems solved. Then I tried to move files from my Macbook Pro to my Media Server. Horrendous speeds. Significantly slower than previously when the Media Server was on the 100mbps router. We're talking 30kB/s. It's painful. I tried enabling Flow Control (both Rx and Tx) on the Media Server box, no luck. Something's not right.
I'm at a loss. Anyone have any ideas?
Filed Under Geek, Hacks and Mods, Wordpress | 2009-11-19, 00:10
This is a boring geeky entry, but if you're looking for this info it might be helpful. I've started a new blog (yes, another one) called My Cat Is Broken. It's a collection of pics and videos of cats being, well broken. Usually it's our cats. Everyone knows that Flickr is a great place to find cat pics, and I've started keeping my eye out for pictures of cats being dumb. When I find one, a quick click of the Blog This button, some title and text and it's instantly on my site.
But I don't necessarily want these pics to be published instantly, I'd rather they be saved as drafts for manual publishing later. I found links to an old plugin that's not even available in the WordPress plugin database called Flickr Blog This To Draft, but the site was down, the plugin unavailable, and I was impatient. I took matters into my own hands.
A quick hack of the xmlrpc.php (in the root directory of my WordPress install) and I was in business. The line to change (as of WordPress 2.8.6) is line 2097 which has the following code:
$post_status = $publish ? 'publish' : 'draft';
There are multiple ways to change this, but I just commented out that line and hardcoded $post_status to draft.
// $post_status = $publish ? 'publish' : 'draft';
$post_status = 'draft';
The thing to remember here though is that when you upgrade WordPress to the next version for yet another security issue, you'll have to redo this modification. If you make a copy of your xmlrpc.php file then you can just run a command line diff against the upgraded version after every upgrade. If that's the only line that changed, copy it back, otherwise jump in manually and re-find that line and fix it. Note though that this means all of your posts will be automatically set to draft. In my case that's perfectly alright, but you may want to toss some code in there to determine this based on your title or something (i.e. titles that start with "DRAFT" go to drafts, but anything else gets published).
Filed Under Burning Man, Events, Geek, Twitter | 2009-08-25, 14:17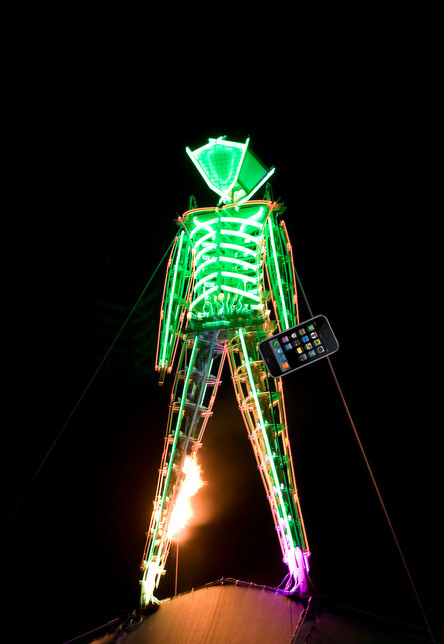 While thousands are counting down the days until they arrive in Black Rock Desert for Burning Man this year, there's already a number of people out there on the playa getting things ready….. and they're calling and tweeting back to us looking for someone to bring the things they forgot. Yes, that's right there is cell service on the playa this year. How do I know? I got a call from Rubin while he was sitting at the space reserved for our camp (Ardent Heavy Industries). In addition several others are tweeting up a storm: @SFSlim, @steve23, @Rubin110, @TKimball, @JosephPred, and more. And of course foursquare had to get in on the action and quickly added Black Rock City to their database so people could check in. As of this writing, SFSlim is the Mayor of The Man but we predict this to change once Steve23 hears wind of it.
The cell service appears to be limited to AT&T and Verizon, but from what we hear people are getting 5 bars inside Black Rock City. Apparently the service is mostly coming from a temporary tower that was installed on some leased land near Frog Pond, which is less than a mile from the trash fence that marks the border of Black Rock City. How are they doing it? According to @ChrisPetrell it's a combination of solar/wind powered tower with a satellite uplink. It's not official Burning Man cell coverage and the Burning Man Org has nothing to do with it, but DPW and other volunteers already on the playa are using it. In addition to this temporary tower, there are also permanent AT&T and Verizon towers south of Empire that people are reporting service from. And finally, there is a theme camp that is providing a GSM->VOIP gateway. I'm assuming this rumored theme camp is the same as the OpenBTS project I posted about last year.
But before you get your hopes up, know that the chance of this service making it through Burning Man without melting down is slim to none. Joseph Pred notes:
Important cell phone update: Temp site only supports 23 Verizon/CDMA users and no SMS. AT&T/GSM supports 35 users with SMS but limited EDGE.
This means you'll have quite the battle with 40-50,000 other attendees if you need to make a call home. Rubin mentioned that he was already having trouble and the event is not due to start for almost a week. I think it's still appropriate to tell your boss/significant other/etc that you are not contactable while out on the playa. Besides, do you really want to get that call about the firewall going down while you're in the middle of 2pir surrounded by an actual wall of fire?
What do you guys think about cell phones on the playa? Good, bad, who cares?
original Man image from Dan Garcia
Filed Under Events, Geek | 2009-08-20, 14:19
Last year I had a blast at SXSW Interactive. It was both enjoyable and informative. However I quickly noticed that there are a lot of.. well douchebags at SXSW. It quickly became quite humorous to pick them out in a crowd and discuss what made them douchey. While it was all a lot of snarky fun, I realized that some of these people probably didn't even realize how douchey they were being! So I decided that this year I should hold a panel to help those in need. The panel is aptly titled "How To Not Be A Douchebag at SXSW". Here is the the proposal that was submitted:
Description:
Aimed at both first-time and long-time attendees to SXSW Interactive, this biting and humorous, yet useful panel takes a look at the common actions and behaviors to avoid if you don't want to be described as "doing it wrong."

Questions that will be answered:
Who is "that guy" and how do I avoid being him?
How do I self-promote without being a douchebag? (i.e — when should I give out my business card?)
What words instantly make me sound like I don't know what I'm talking about? (i.e. — what are douchey buzzwords?)
How do I not come off looking like an obnoxious PR flack?
How do I pitch my product/service/technology? (i.e. — to schwag or not to schwag?)
How do I handle an open bar?
How should I ask questions at panels and presentations?
What is the proper Twitter/Foursquare etiquette at SXSW?
How can I treat the locals graciously?
How can I make a connection with someone I'm attracted to and not come across like a marketing dweeb? (i.e. — hooking up, the undouche way)
Joining me on this panel will be the lovely Violet Blue of sex blogger fame and the experienced John Adams from Twitter. There's a good chance we'll pick up a fourth member before SXSW so if you're interested in joining us, let me know. But in the meantime we have to convince SXSW that this is a panel the people want to see! In order to do this we need your votes. If you've got a minute, please head over to our proposal on the SXSW Panel PIcker and give us a thumbs up! But hurry, voting ends on September 4th.
Filed Under Funny, Geek, Video | 2009-07-24, 22:22
This song by Dale Chase is spot-on:

The first hint that my own "coder girl" and I would be good together? Seeing O'Reilly books on her bedroom shelf.
Of course I'd be remiss to not point you to the Girl at the Video Game store video from G4's Attack of the Show to supplement the above:

Filed Under Geek, Video Games | 2009-07-10, 16:12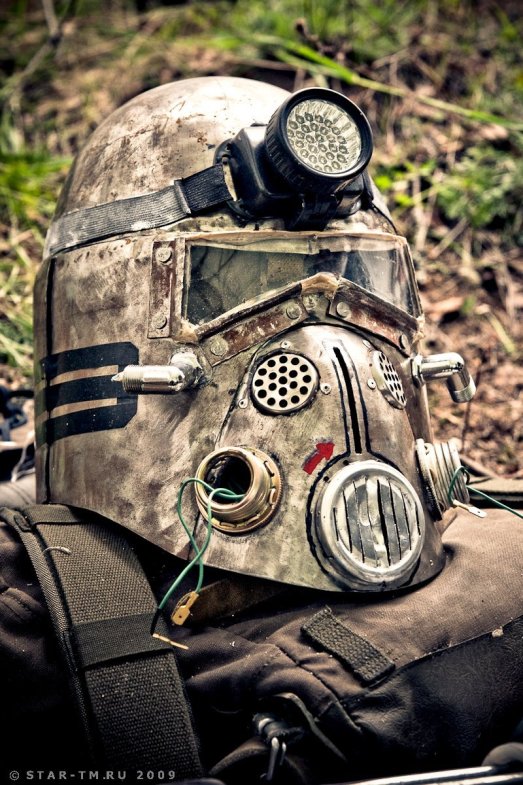 Anyone that checks my Xbox Live stats (Gamer Tag: edrabbit) will see that I've spent a bit of time playing Fallout 3.  And the love for the expansive world that Fallout 3 weaves is probably why I enjoy these photos of a bunch of Russian LARPers (Live Action RolePlaying).  I don't read (or speak) Russian, so I have no idea what the post is about, but the time and attention that they've put into their costumes and environment are impressive.  And come on.. hot Russian girls with guns, need I say more?
Check out the full gallery of pics over on the LiveJournal post. If anyone can translate and fill us in on the story, that would be appreciated!
via Wonderland
Filed Under Geek | 2009-07-07, 02:12

So I need to reinstall Windows. It happens, Windows gets "dirty" and sometimes I just need a format and reinstall to feel clean again. The same way one might feel on Sunday morning after a weekend bender. But like a good computer user, I've got offsite backups (in addition to that RAID array) that go to Mozy.com. But before I jumped into a "nuke and pave" I figured I should check and make sure you don't need to do anything special with Mozy because I remember that it took months to originally backup my 400gb of files. So I jumped onto Mozy.com's support chat and quickly found out that I would have to re-upload the 400gb of files. There is apparently no way to tell Mozy that a fresh install of windows should be treated as the same backup set. I can't imagine what they're using to uniquely identify machines, but apparently it's not a harddrive serial number + your user account, which would make sense in my book. So I guess it's time to start hunting for a new offsite backup solution.
If you want to read the ridiculous conversation I had with support, I've included it in full below for your amusement:
You are now chatting with 'Sunil'

Sunil: Welcome to Mozy Live Support. May I have your account email address please?

Ed: Hi Sunil, my email address is [REDACTED]

Sunil: Thanks. Are you dealing with an issue you've previously talked to us about or is this a new issue?

Ed: this is a new issue

Sunil: Could please explain me in detail the issue so that I can help you?

Ed: I have a computer that I need to reinstall windows on

Sunil: Ok.

Ed: this computer has a secondary drive that I use to store important files. This drive is backed up to Mozy

Sunil: Ok.

Ed: I want to make sure I don't have to reupload all of the files after reinstalling windows
Ed: what do I need to do to make sure Mozy recognizes that this is a pre-existing backup when it's running on a new install of Windows?

Sunil: Ed, unfortunately it is not possible but you need to restore the files after reassociating Mozy to your newly installed operating system.
Sunil: Mozy will consider this computer as a new computer if you upgrade or reinstall operating system.
Sunil: There is a method to replace the machine or to re associate Mozy after reinstallation of operating system.
Sunil: http://support.mozy.com/docs/en-user-home-win/guide/tasks/home_replace_machine_c.html
Sunil: You may refer this link given above to know how to perform a replacement of machine to associate Mozy again.

Ed: so I have to reupload the 400gbs of data I have backed up to Mozy?

Sunil: Yes. You may have to restore the files and then re upload the files in this case.

Ed: so I have to download 400gb of files to replace the original files on my local drive, and then reupload the 400gb files I just downloaded from Mozy back to MOzy?

Sunil: Yes. You may have to replace the machine and associate Mozy to your newly installed Operating system computer and then Restore the old files doing a web restore logging in your account.
Sunil: After retrieving the old files you may start a new fresh backup to upload files.
Sunil: Is there any thing else I could assist you with Mozy?

Ed: Do you realize how ridiculous this is?
Sunil: I can understand your frustration Ed. It is because at any time of reinstallation of operating Mozy will cant detect your machine as the old.
Sunil: It's security feature is set like that way.

Ed: and there is no functionality to tell Mozy that this is in fact the same backup set?

Sunil: If you really want to retrieve the old backup set, it is possible.
Sunil: You may just login to your Mozy home account.
Sunil: and then click on restore files.
Sunil: Then, click choose file to restore.
Sunil: Now select the date of your last backup by choosing bold color dates.
Sunil: Here you will get the option to view your old back up sets.

Ed: I have all of my backed up data on my local drive, you guys have all of my backed up data on your servers. I shouldn't have to download my own data and then give it back to you when it already exists in both places.

Sunil: Since you are reinstalling your operating system your old data and backup data can remain in our server for only 30 days. However, when you reassociate Mozy you can restore only the important files uploaded before.

Ed: I don't need to restore any files since I already have all of them on my drive

Sunil: Ok.

Ed: I am reinstalling my operating system on a harddrive that is not backed up by Mozy
Ed: I am not changing the secondary (slave) harddrive that is backed up to Mozy
Ed: I don't need to upload those files to Mozy because they already exist there
Ed: I should just be able to change a config file or setting somewhere that tells mozy this is the same backup set, just on a fresh install of windows

Sunil: At any time you are installing or upgrading your windows Operating system you are loosing the old backup set and Mozy installed config files.

Ed: I can save the mozy installed config files, just tell me which ones I need to save

Sunil: http://support.mozy.com/docs/en-user-home-win/faq/tasks/common_issue_reinstall_backupsets_c.html

Ed: will this work if I put the conf.dat file back in the MozyHome folder on a fresh install of windows?

Sunil: Ed, if you are reinstalling the operating system Mozy will not be able to detect your machine as the old computer. It will consider it as a new computer. Please refer the link given below to know more about this:
Sunil: http://support.mozy.com/docs/en-user-home-win/guide/tasks/home_replace_machine_c.html

Ed: how can I force it to recognize it as the same computer? What information does it use to uniquely identify the computer?

Sunil: It is not possible and Mozy will not have that feature if you are upgrading your operating system or using a new computer etc.,
Sunil: Please refer the link mentioned above to replace the machine after reinstalling your operating system.

Ed: Thanks for the information, I'll start looking for alternative backup solutions
Filed Under Gadgets & Hardware, Geek | 2009-04-13, 12:50
I love the idea of the Flip Video cameras.I bought a Flip Video Ultra last year and it has served me quite well. It's small enough that it's easy to carry around for those random moments when you wish you had a video camera. It's cheap enough to not worry about taking it places where it could get absolutely destroyed. And it has enough space (60minutes) to record quite a bit of video.
However when I was doing some video for the 2009 Valentine's Day Pillow Fight I noticed that the power switch was not sliding as easily as I remembered and would occasionally stick and cause problems when I needed to quickly turn the camera on and start recording. I figured it was just dirty so I'd open it up and clean it. I didn't want to just start pulling stuff apart as I've broken many a plastic tab with this method. I did a quick search to see if there were any tear-down guides for disassembling the Flip Video camera, but came up short. I did find this video which was helpful, but also difficult to flip back and forth through. So here's my quick photo guide to dismantling should you want to clean things, modify the LED, microphone, or whatever.
Unfortunately after all that disassembling and reassembling my power switch was still sticking. A couple loosening turns of the screw closest to the power switch was actually all the solution I needed. It was still interesting to take a look at the guts of my trusty Flip though.
Filed Under Art, Geek, Video | 2009-04-08, 12:35
After seeing the video of Zenta's hexapod in action I just had to share it. It's design, fluid movement, and lifelike qualities make it absolutely beautiful. The video just had me saying "wow" every few seconds whether it was picking up a can of soda and not getting thrown off balance, or being dexterous enough to pour a glass of water. As my friend Neil put it, "This robot is so lifelike, it will either have you cooing with delight or running away screaming."
The creator, Zenta, is no stranger to hexapods or robots, having quite the robot family. If you're more interested in the construction and parts of the A-Pod, check out his post which is chock full of great photos and how-to info.
Filed Under Geek | 2009-03-12, 22:42
Obligatory "I'm doing SXSW" post. Find me and say hi if you're here too!
It's my first time and I've already learned something valuable: "Don't get a hotel room far away" Looks like I'll be racking up the taxi fares as well as the bar tabs this week!